Queen opens British Library manuscripts exhibition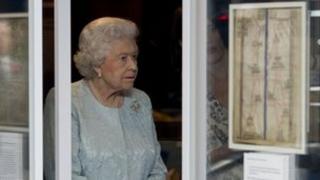 The Queen has opened a British Library exhibition featuring manuscripts which belonged to medieval kings and queens.
The Royal Manuscripts: The Genius of Illumination contains 154 items, including manuals on how to behave.
The Queen and the Duke of Edinburgh had a private viewing of five manuscripts on display at the London exhibition.
They included monarchs' prayer books, a charter commemorating the start of monastic rule of St Benedict in 964 and books made for King Edward IV.
All the manuscripts on display were once held and used by medieval royals.
"It's a massive collection that gives you insight into the royals' personal lives," curator Dr Scot McKendrick said.
"They also have the best paintings from the medieval period."
The Queen was said to linger most over Henry VIII's manuscripts.
Curator Andrea Clarke said: "She called Prince Philip, who was looking at something else, to come and have a look."
Dr McKendrick said Henry VIII's psalter, a volume containing the Book of Psalms, was rare because it contained annotations written by the king.
"Part of it has an annotation written by him before he was king and the other was written towards the end of his life," he said. "He had a typical aristocrat style of writing."
The exhibition will be on display at the library until 13 March.