TA soldier killed in Helmand province named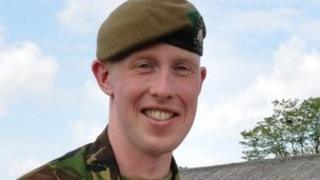 A British soldier killed by a bomb in southern Afghanistan has been named as Pte Matthew Adam Thornton.
The Territorial Army soldier, 28, from 4th Battalion The Yorkshire Regiment, died from the blast on Wednesday at Babaji in Helmand province.
The factory worker from Barnsley was serving with 1st Battalion The Yorkshire Regiment as a part of a Combined Force in Lashkar Gah.
His family said his death would leave "a huge hole in all our lives".
The Ministry of Defence (MoD) said Pte Thornton was killed by an Improvised Explosive Device during a patrol north of checkpoint Loy Mandeh, following an engagement of small arms fire and grenades.
'Yorkshire warrior'
He was caught in the blast as he was manoeuvring and returning fire, the MoD added.
Pte Thornton had begun his deployment to Afghanistan, based at checkpoint Khoorashan in Babaji, just last month.
His family - father Michael, mother Susan, sister Sarah, and brother Nathan - said in a statement: "Matthew was a dedicated soldier and passionate about the job. He loved what he was doing.
"He loved life and lived it to the full - in his work, in his role with the Territorial Army and in his leisure time.
"Matthew will be greatly missed by his family, his TA colleagues and his friends. His death leaves a huge hole in all our lives."
Lt Col Ian Crowley, commanding officer of 4th Battalion The Yorkshire Regiment, said he showed he had the volunteer ethos "in spades".
"He was a fine soldier and an even finer man. 4 Yorks is a family and we have lost one of our own. He was a true Yorkshire Warrior," he added.
Lt Col Dan Bradbury, commanding officer of 1st Battalion The Yorkshire Regiment, said he fitted into his sister battalion immediately, displaying "grit and determination" alongside a "ready wit and smile".
'Saddened and shocked'
A passionate snowboarder, Pte Thornton was born in Barnsley and attended Darton High School - going on to work on the shop floor for Yorkshire firm Premdor, a manufacturer of door and window frames.
Premdor's UK general manager Robin Baker said: "Matthew was a very hard-working employee and was always working to the best of his ability.
"He wasn't afraid to challenge his colleagues if he felt improvements could be made.
"We are all deeply saddened and shocked by what has happened and he will be sadly missed by everyone at Premdor.
"All our thoughts go out to his family especially on the Remembrance Day."
He had joined the TA in 2004, left briefly in 2007, then re-enlisted two years later to volunteer for deployment to Afghanistan.
He was the 385th British military casualty in Afghanistan since 2001.