Twitter users plan online Armistice Day service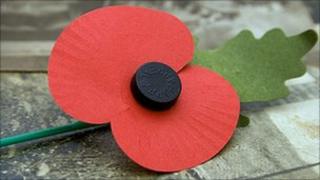 Twitter users are planning to take part in an Armistice Day service on the social networking site.
At 10:15 GMT on Friday, an order of service will be tweeted by organisers, with links to hymns and a two-minute silence - when tweeting will stop.
Followers will be encouraged to tweet the names of loved ones who died while serving in the Forces.
The service is intended to broaden awareness of traditional remembrance events.
The idea came from James Thomas, a music graduate from Cardiff, who wanted to help people who might not usually attend traditional services, but who wanted to mark Armistice Day.
James, who will tweet under the name @Poppy_Tweet, is a member of the Methodist Church but has stressed that the service is open to people of all faiths.
At 10:15 GMT on Friday, a traditional order of service will be gradually sent out in the form of prepared tweets, each no longer than 140 characters.
The tweets have been set for pre-arranged intervals, to keep the service running to time.
They will include prayers for the dead, links to a selection of hymns and music on YouTube, and an eight-part sermon written by the Reverend Joanne Cox.
Twitter users can follow the service using the hashtag #weremember.
Ms Cox, who ministers at Westminster Central Methodist Hall in London, says her sermon will reflect on why it is important to live life with bravery and courage.
Though not delivered from a pulpit, she believes her words will help people to engage with the issues of sacrifice precisely because they will come in small snippets.
"Short sentences can help people connect to the bigger spiritual themes of life," she said.
Time to remember
She does not think the lack of a shared church space is a problem.
"Setting aside the time to remember, the act of remembrance itself, is sacred - both as worship and as a moment of time set apart from the everyday."
Mr Thomas hopes his initiative will attract a wide following but stresses that he is not encouraging people to stay away from face-to-face services.
"I'm aiming to make the service as traditional as possible through text and images.
"I don't want to tell people to watch us rather than go to a service. That's not what we're about."
The Royal British Legion, which is webcasting its own service from Trafalgar Square, said it encouraged everybody to observe a "Twitter silence" at 11:00 GMT.
The Twitter service will be repeated on Sunday 13 November.