Credit crunch 'prompts abandoned pets rise'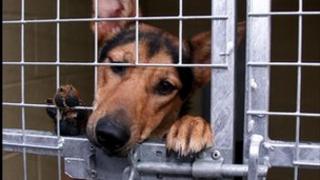 The number of animals abandoned in the UK is rising steeply, amid fears that pets are being given up by owners struggling to pay for their keep.
Animal welfare charity Blue Cross said it dealt with 1,530 stray and abandoned animals this year, compared with 1,027 in 2010 - a rise of nearly 50%.
Battersea Dogs and Cats Home said the number of owners who could not afford their pets was double that of 2010.
Both charities blamed the rise on the economic pressures families are facing.
A Blue Cross spokesman said: "Since the credit crunch, we have seen a steady rise in animals brought in or abandoned and so, like many charities, we are seeing more pressure on our resources while having to work harder to get donations."
He said the rise in abandoned animals, in particular, had been "steep", adding that it was "particularly distressing" as people are abandoning these pets to fend for themselves and they are "in a bad state" when they reach the charity.
The charity said it is keen to convey its message that owners should neuter their pets if they want to avoid more unwanted animals.
London-based Battersea Dogs and Cats Home said it had 91 cases of people who could not afford to keep their dog or cat this year, compared to 42 in 2010.
It said pet owners had felt forced into "increasingly desperate situations".
"Battersea is now receiving calls every day from animal lovers who feel they have no option but to give up their cherished pets because they can no longer afford rising vet bills, they've been made redundant, they've been made homeless, or face imminent eviction," it said.
Battersea Dogs and Cats Home also expressed concern that pet owners are unable to afford to neuter or spay their animals, and are financially unable to deal with the consequences.
It said its workers had seen a recent influx of pregnant animals being admitted.