Police have 300 million News International emails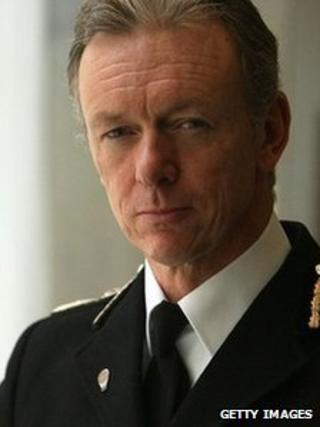 Scotland Yard is wading through 300 million News International emails as part of its investigation into phone-hacking at the News of the World.
The new Metropolitan Police Commissioner, Bernard Hogan-Howe, revealed the figure to journalists when asked about the scope of the inquiry.
He said 600 phone-hacking victims had been interviewed by police out of a total of 5,700 potential victims.
Mr Hogan-Howe said the inquiry had so far cost £3m in salaries alone.
"There's a balance between doing it properly and doing it quickly. The criticism in the past was that we didn't do it thoroughly and that is what we are going to do this time," he said.
His comments came as News International's chief executive James Murdoch rejected an accusation in a Commons select committee by Labour MP Tom Watson that the company had behaved like the mafia over the hacking scandal and operated a code of silence.
He said Scotland Yard had also spoken to a further 1,200 people who thought their phones had been hacked but had since been reassured that it was not the case.
"Some were people in public life who had things happened to them they couldn't explain and they thought 'maybe I was phone-hacked' and they contacted us," he said.
'No deadlines'
He said that to speed up the task of talking to victims, police were now asking them to come to Scotland Yard rather than travelling to them.
The commissioner said he could not say how long the inquiry would take or cost and he would not give Deputy Assistant Commissioner Sue Akers' team any ultimatums.
Around 100 detectives are working on the three inquiries:
Operation Weeting - into the phone-hacking itself
Operation Elveden - into allegations of corrupt payments by journalists to police officers
Operation Tuleta - into the possibility that emails may have been intercepted
Regarding the latter, Mr Hogan-Howe said: "We're yet to understand fully what the nature of that would be."
He conceded that 100 people was a lot to put on one case and that most of London's murder cases had far fewer detectives working on them.
But he stressed that it was important to investigation the allegations properly to reassure the public.
Mr Hogan-Howe said: "I can't say to them 'you will solve this by 31 March'. That is not very wise."
Asked how long the inquiries might take, he joked: "If it takes 10 years, I won't be here by then. I can't tell you when it will finish."