Newspaper review: Stark eurozone warnings in papers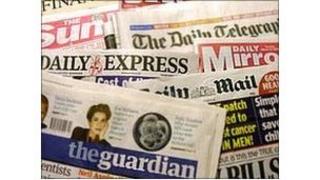 There are stark warnings that the eurozone debt crisis cannot be ignored in Thursday's papers.
As the Daily Telegraph puts it, "this time, the trouble over the Channel is deadly serious".
The Independent admits that after so many euro crises it is tempting to treat the latest one over Italy one with a roll of the eyes.
But it says, it is serious now, far more serious than the Greek crisis and far more capable of bringing down the whole house.
Poppy decision
Many papers feature the story that footballers will be allowed to display poppies on black armbands during this weekend's international matches.
England one, FIFA nil is how the Times reacts, saying it is a neat compromise as the FA first wanted them on shirts.
But the Daily Mirror says it is a dramatic climbdown, due to a "battling" Prince William who apparently made a "furious" protest to FIFA.
The Sun agrees that the Prince was "livid" about the original ruling.
Stiff test
The Guardian reports that James Murdoch will face the stiffest test of his career when he appears before MPs for a second time to face questions about phone hacking.
The Financial Times says that he has two tasks, to answer the accusation that he misled parliament in July and to secure his future both at News Corporation and BSkyB.
The Times reports he will repeat his apology to phone hacking victims but will insist he was not told there was a culture of hacking at the newspaper.
Airbrushed ship
Many papers report the outcry after HMS Belfast was airbrushed from official London 2012 posters showing the Thames in the heart of London.
Officials tell the Daily Express and the Daily Mail that the ship was "unfortunately excluded" due to a mistake.
But the Sun says organisers are facing a broadside of furious complaints.
A former commander of the fleet who served on HMS Belfast tells the paper that the omission shows complete contempt for veterans.