NSPCC warns 200,000 babies at risk of abuse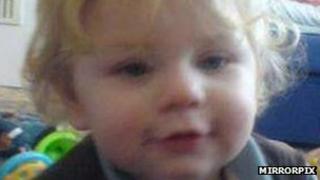 Nearly 200,000 babies born in the UK to families with domestic violence, mental health or addiction problems are at high risk of abuse, research suggests.
The NSPCC estimates that children under one are eight times more likely to be killed than any other age group.
The charity is calling for "early and effective" support for babies living in homes with these problems and called on the government to act.
Ministers said they were focusing on early intervention.
Launching a new campaign - All Babies Count - to support the most vulnerable babies, the charity released the first estimates of how many infants are living in high-risk family situations.
Across the UK it says 144,000 children aged under one live with a parent who has mental health problems.
A total of 109,000 have a parent with drug or alcohol problems, and 39,000 are in a home affected by domestic violence - some fall into more than one category.
'Sound economic sense'
There has been heightened concern about how agencies care for vulnerable young children since the death of 17-month-old Baby P - now named as Peter Connelly - while on the at-risk register in August 2007.
The charity's chief executive Andrew Flanagan said it made "sound economic sense" to intervene early to stop abuse, while the NSPCC itself is launching a range of new services aimed at preventing child abuse.
These are:
Midwives in 12 hospitals working with the parents of all newborn babies to raise awareness of shaken baby syndrome. A similar programme in Buffalo, New York reduced such deaths by 46%
An intensive home visiting and parenting programme over 20 weeks working with parents receiving drug or alcohol treatment who have a child under two. Any signs of child abuse or neglect will be reported to children's services
A home visiting programme for vulnerable first-time mothers under 25. Beginning in the final three months of pregnancy and lasting until the child is two, support is provided by both advanced social workers and nurses
A new parent education programme for vulnerable expectant parents. The programme consists of eight sessions on parenting, including two taking place after birth.
"Investing in preventing harm is a more effective way of spending money than trying to pick up the pieces of children's broken lives in the years after abuse has happened," said Mr Flanagan.
"We're calling on the government to join us in focusing attention, resources and expertise to demonstrate that all babies count.
"The government's focus on early intervention is welcome, but we now need action."
The NSPCC claims for every pound spent intervening early at least £4 are saved later in a child's life.
The Children's Minister Tim Loughton said the NSPCC's report showed why the government was intervening early to help the most vulnerable children.
"We are providing an extra 4,200 health visitors and are doubling the places on the family nurse partnership programme to work with the most vulnerable young families - including those who may have alcohol, drug or mental health problems," he said.
"Supporting families in this way can increase the chance of children growing up safe in stable homes. It can also prevent problems escalating into child protection issues.
"But we are clear, where children are at risk they need to be protected from harm. We are reforming the child protection system to make it work much better for children."