Salman Butt appeals against 30-month jail sentence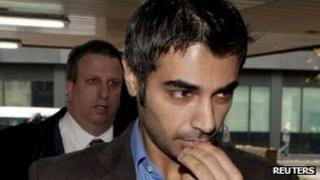 Former Pakistan cricket captain Salman Butt has filed an appeal against his 30-month jail sentence for his part in the conspiracy to bowl deliberate no-balls in a Test match, his lawyer says.
His conviction relates to last year's match against England at Lord's.
Bowler Mohammad Asif, 28, was jailed for one year and bowler Mohammad Amir, 19, was sentenced to six months for their part.
Cricket agent Mazhar Majeed was jailed for two years and eight months.
Lawyer Yasin Patel confirmed Butt's appeal to the Associated Press on Wednesday.
In February all three players were banned from playing for five years by the International Cricket Council. All three are appealing against their suspensions.
The men were arrested after the fourth Test between Pakistan and England in August 2010.
An undercover News of the World reporter had paid Majeed £150,000 for details of the precise timing of three no-balls, which were duly delivered as promised.
Such actions can be extremely valuable on the spot-fixing betting market, which involves betting on the finer details of sporting contests.
Majeed claimed to have paid Asif £65,000, Butt £10,000 and Amir £2,500.
The judge told all the players they would be released on licence half way through their sentences if they behaved.