Newspaper review: Berlusconi's departure discussed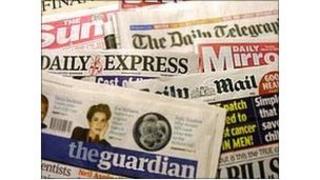 Silvio Berlusconi's intention to resign as Italy's prime minister is explored in Wednesday's papers.
"In the end, it was the euro that got him," says the Guardian.
The paper reports that Mr Berlusconi announced his intention to resign "after a push from the president".
He will go but not quietly, warns the Daily Mirror and few papers hold out hope that his departure will offer any quick solutions to the eurozone crisis.
The Times argues that once Mr Berlusconi is gone, Italy's economic problems will remain critical.
'Doomsday scenario'
The Daily Telegraph agrees, suggesting there is no reason to believe whoever succeeds Silvio Berlusconi will be any more capable of delivering the demanded reforms.
The Independent warns that failure to find a replacement government quickly would lead to the "doomsday scenario," with at least three months of added uncertainty before a general election.
The Financial Times raises the prospect that Mr Berlusconi might even live to fight another day, if he can keep at bay his court cases and reassert his authority over his party.
Immigration row
The border chief has gone "to war" according to the Daily Mail, which says the civil servant blamed for abandoning passport controls has quit and accused the Home Secretary of misleading MPs.
The Daily Mirror says Brodie Clark's comments mean he has accused Theresa May of lying to save her skin.
The Daily Telegraph says his attack escalates the most serious immigration row the Coalition has faced.
Meanwhile, the Sun says it has left Mrs May fighting for her political life.
Fixed it for Jim
"Now then," begins the Daily Star, as it shows fans of Sir Jimmy Savile, flocking to see his gold-coloured coffin at a hotel in Leeds.
"Neither Lenin nor the Queen Mum lay in state with three cigars andtwo This is Your Life books," the Daily Mirror says.
They fixed it for Jim to have relatives, friends and admirers to pay their respects, the Daily Mail says.
Five thousand "guys and gals" queued up to say their final farewell, according to the Daily Express.