Knife crime: Teenagers back custodial sentences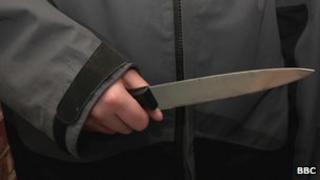 Any 16 or 17-year-olds caught carrying knives will be given custodial sentences under government plans. But what do teenagers at a London event aimed at cutting youth crime make of it?
Benjamin Akande knows exactly how it feels to be threatened with a knife.
"He opened his coat. I could see it," he recalls of the time he was "flashed" with a blade.
The student, from Coopers Technology College in Chislehurst, south-east London, was among 90 youngsters gathered at the capital's City Hall to discuss how best to combat youth violence.
He has no hesitation in backing mandatory prison sentences. But he thinks the message about the consequences of carrying a weapon needs to sink in with youths on the streets.
"Carrying a knife is for protection, that's why they do it," he says.
'No difference'
"Most people think they can get away with it so I think it should be a two-year sentence."
Under the plans, announced by ministers last month, 16 or 17-year-olds convicted of threatening people with knives will get a mandatory minimum custodial sentence of four months.
And many of those at the City Hall event, including youngsters from areas with the capital's highest youth crime rates, agree with the government's tough new approach.
"Yeah, that's a good thing," says Eve Gina-Osagie, 15, from Eltham Foundation School, south London. Schoolmates Charlotte Akers and Louis Wright, both 14, agree.
But there is also strong scepticism about whether the new sentence will deter those who carry knives.
"It won't make any difference," says Jamal Ossai, from Coopers Technology College, with a note of resignation.
Louis Wright agrees: "Having a knife is about feeling safe on the streets and some people feel safer on the streets because their mum and dad beat them up at home."
Resentment at police
So what are the solutions? More youth centres and greater regard for young people's opinions - these are the common themes at the gathering arranged by London Mayor Boris Johnson and the Metropolitan Police.
There is also resentment at the approach some police officers adopt.
"I was going paintballing with some mates," says Louis.
"We had our hoods on because it was raining and a police van stopped. They got out and asked what our names were and where we were going. We weren't doing anything to anyone."
The number of teenagers killed in knife attacks on London's streets has fallen in recent years, down from 22 in 2008 to eight so far this year. But knife crime overall is up by nearly 11%.
And while both the police and the mayor claim credit for the reduction in knife-related homicides, there may be another reason.
Trauma surgeon Duncan Bew, from King's College Hospital, London, was among the event's experts.
"There is no doubt that some patients are surviving who would not have done so before we improved our trauma service, he says.
But surgeons can only do so much and the organisers of this event hope the young people who attended will influence others and turn them away from crime.