Max Mosley wins privacy case in France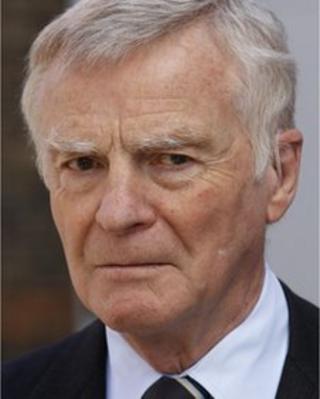 The News of the World violated the privacy of ex-Formula One boss Max Mosley by publishing photos of him with prostitutes in 2008, a court in Paris has ruled.
The now-defunct tabloid's owner News Corp was fined 10,000 euros (£8,600).
Mr Mosley, 71, was granted damages of 7,000 euros, with an additional 15,000 euros for court fees.
Mr Mosley has already won damages in the British courts, but sued in France where the paper was also distributed.
The Paris court said there was no defamation. It also did not penalise the reporter who wrote the story, Neville Thurlbeck.
Mr Mosley had sought 100,000 euros each in damages from both the paper and Mr Thurlbeck.
The front page article, accompanied by photos and video footage, suggested that Mr Mosley - the son of fascist leader Oswald Mosley - had organised an orgy with Nazi overtones.
This was rejected by a British judge.
In 2008, the UK High Court awarded Mr Mosley £60,000 damages after ruling the News of the World invaded his right to privacy by reporting on his sex life.
'Reputation damaged'
The court said then that there was no justification for the paper publishing the story.
Although he was awarded £60,000 in damages, everyone had learned the details of his sexual preferences, and he argued money alone could not restore his reputation.
Speaking on Reuters TV on Tuesday, Mr Mosley's lawyer Philippe Ouakrat said: "What we have here is kind of a spill-out breach on the French territory.
"It was very important for Mr Mosley to obtain this sort of decision."
The Paris ruling comes six months after Mr Mosley lost his bid at the European Court of Human Rights to force newspapers to warn people before exposing their private lives.