UK border controls - are they tough enough?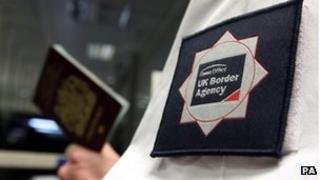 Home Secretary Theresa May is coming under increasing pressure to explain what she knew about the relaxation of some passport controls during the summer.
The measures were meant to be used to help avoid airport chaos with excessive queues in the arrivals hall, flight disruption or a baggage crisis.
But they raise the question: How stringent should border checks be?
At the centre of the row is the pilot scheme - which all UK borders could have taken part in - which allowed officials to use discretion to judge when to check the biometric chip on the passports of people from within the European Union.
Checks were also relaxed on children from the EU who were travelling with their parents or as part of a school group.
Theresa May told MPs on the Home Affairs Committee on Monday that it had been designed to allow, "in limited circumstances", the UK Border Agency (UKBA) to use more intelligence led checks against high risk passengers and journeys.
But not everyone agrees this is the correct approach to protect the UK's borders.
A former immigration caseworker, Steve Moxon, says watering down security controls in one part of the system creates loopholes that those intent on getting into the country can target.
'Culture of contempt'
Mr Moxon, who was sacked for blowing the whistle on failures to apply immigration rules in 2004, said: "Home secretaries have concerned themselves with fraud and terrorism coming from non-EU routes - this creates a loophole because then people come in on EU passports.
"When Tony Blair's government cracked down on false asylum claims after he came into office there was a massive increase in fraudulent student applications."
Mr Moxon, who wants more stringent passport checks, thinks policy makers consider tighter border controls and immigration an insolvable problem.
"People have a culture of contempt - there isn't the will from the top to do anything serious about the problem. The more rigorous checks you do the more staff you need. They haven't remotely got enough resources so they do a few things, token gestures, to give the impression they have."
The government refutes this.
The UKBA is due to lose 5,000 posts by 2015 as part of government cost-saving measures.
Mr Moxon said he thought this should be reversed immediately. But he added: "Increasing staff at the borders isn't the answer." He called for the existing biometric technology to be used to tighten up on people overstaying their visas.
"Finger printing isn't being done. People on tourist visas should be being checked as it's easy to get a six-month tourist visa and not go home. They should be finger printed before they come in and there should be checks they have left. It's much more important to do proper checks - if that involves longer queues so be it."
Embarkation controls - which meant people leaving the UK were seen by an immigration officer - were ended in 1994 for those travelling from ferry ports and small ports to a European Union destination. The remaining embarkation controls were removed in 1998 as it was decided they were "an inefficient use of resources".
'Open for business'
Lady Jo Valentine is the chief executive of London First, an organisation which campaigns on behalf of most of the capital's biggest companies and employers with the aim of improving the city's competitiveness.
She believes longer queues and more hassle at airports are bad at a time when the country needs to be seen to be open for business.
She said: "The first priority is to make sure our borders are secure. But the second issue, which needs to be taken nearly as much to heart, is that we need to be able to be open for business.
"It is very important for the UK to grow its way out of the recession and clearly chaotic border controls or long queues is not helpful."
Home Office statistics published in August show there were 101.5 million people, of all nationalities, admitted to the UK in 2010. In the year to June 2011, a record 1.6 million visitor visas were issued.
But official figures show a large proportion of people entering the country in that period were not subject to immigration control. In 2010, British passengers accounted for 60% of arrivals and a further 28% were from the rest of the European Economic Area or Switzerland.
The chairman of Migration Watch UK, which campaigns for tougher immigration controls, Sir Andrew Green, said the enormous number of people coming through the UK's borders each year meant that any system had to be practical.
He said the biggest problem for the UKBA was people overstaying their visas. He said: "The credibility of an immigration system depends entirely on your ability to remove those who don't have a right to be in UK."
Sir Andrew said the way to tackle the number of people in the UK illegally was to remove the market for their employment. He said deterrents, such as large fines and jail terms for those who are caught employing illegal immigrants, should be enforced and those caught working without the correct visas should be deported.
"The perception among illegal workers is that you're unlikely to be sent home even if you are arrested. That has to be changed."
'Tough' border controls
Home Office figures show 60,200 people were removed from the UK or departed voluntarily in 2010.
The associate director for UK Migration Policy at the think tank the Institute for Public Policy Research (IPPR), Matt Cavanagh, said by international standards UK border controls were tough.
He said: "Though far from perfect, compared to other developed countries we're actually pretty well up there in terms of our toughness."
But he said intelligent targeting of passengers and flights was not an alternative to standard checks: "Every year they try to balance security with the length of the queues. It seems to have worsened this year with the staffing issues but if the system is working well and you have enough staff you would do both."
A UK Border Agency spokesman said: "Nothing is more important than the integrity of our border in order to protect national security and reduce and control immigration.
"We are determined to secure our border which is why we recently introduced tough new measures to control the numbers of people that can come to the UK and work from outside Europe.
"This government has committed to reducing net migration from hundreds of thousands to tens of thousands."