Phone hacking: Lawyer to sue over NoW surveillance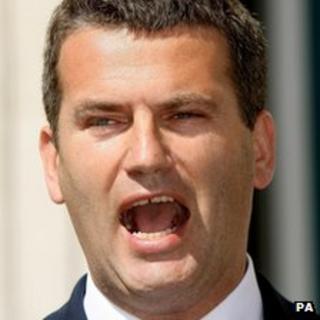 A lawyer who represents phone-hacking victims is to sue News International for damages after it was revealed one of its papers spied on him.
Mark Lewis told BBC Radio 5 live he was taking legal action after it emerged the News of the World (NoW) hired private investigators to follow him.
Shadow culture secretary Harriet Harman said the revelations were a "new low".
News International has said the action was "deeply inappropriate" and "not condoned by any current executives".
Mr Lewis's former wife, daughter and other solicitors were also followed.
The lawyer, whose clients include the family of murdered schoolgirl Milly Dowler, told the Victoria Derbyshire programme that he was "looking over his shoulder, thinking I'm being followed".
"I don't know what's actually happening out there," he said.
"It's staggering. It's very upsetting to find that out that they could even think of doing that. It was just wrong."
'Private life'
Derek Webb, who ran private investigations firm Silent Shadow, said he had been commissioned by the NoW to carry out surveillance on Mr Lewis and his former assistant Charlotte Harris in early 2010.
Mr Lewis said the now-defunct tabloid newspaper had been trying to find out whether he was having an affair with Ms Harris, who also represents phone-hacking victims, but that it was "barking up the wrong tree".
"My private life has absolutely nothing to do with my professional life. Even if they had found out what they were trying to, it would have made no difference to the cases I was representing," he told the programme.
He said he was taking civil action for an invasion of his privacy, adding that he believed the company was aiming to discredit him and therefore prejudice the cases of those he was representing.
"To attack the lawyer who is pursuing cases for other people is a very serious matter," he added.
Media ethics
Ms Harman said: "These revelations take the shame of the phone-hacking scandal to a new low.
"I am calling on the Law Society to submit further evidence to the Leveson Inquiry to set out to them how this fundamentally undermines the rule of law."
The Leveson Inquiry is a judicial inquiry set up by Prime Minister David Cameron to examine phone hacking and report on the culture, practices and ethics of the press. It begins on Monday.
The surveillance of the lawyers, who have been involved in cases against NoW owner News International, took place during the past 18 months when James Murdoch was executive chairman.
It is not clear who authorised it but the BBC's Newsnight programme has seen evidence that its use was discussed.
Mr Lewis has also revealed that he has seen documents showing politicians, including the Labour MP Tom Watson - a key figure in the Commons' phone-hacking inquiries - were also under surveillance.
Mr Watson sits on the culture select committee, which is due to hear a second round of evidence from Mr Murdoch on Thursday morning.
The MP told the BBC: "I would imagine that James Murdoch would want to explain whether the company did hire private investigators to follow me and was it around the time of the investigation into phone hacking on my committee?
"And did they hire private investigators to follow any other committee members?
"It's probably relevant to the investigation we're doing now and I'll talk to colleagues to see where we should take it next."
News International has declined to comment about this latest claim.
The company has said that while surveillance is not illegal, it was inappropriate in the circumstances. However, the group insists the action was not condoned by any of its current executives.
Mr Lewis argues that those currently in charge at News International had information about the surveillance but failed to pass it to him or Ms Harris.
Mr Lewis said he would like Mr Murdoch to explain whether he had had any control of his company during the surveillance or whether he knew about it.
The NoW folded in July after a string of hacking allegations.