Newspaper review: Papers question immigration checks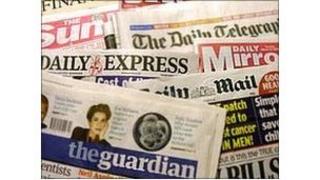 Revelations about the relaxation of border checks prompt questions about the immigration service in Tuesday's papers.
Five years after the then Home Secretary John Reid declared the system was not fit for purpose, the Times says nothing has changed.
It says the UK Border Agency, formed in 2008, has instead continued the chaos by another name.
The Daily Mirror says immigration delays at at airports have not been helped by staff cuts.
Damaged tourism
The Financial Times reports business leaders urging the government to sort out queues at passport control at Heathrow before the Olympics.
They say the problem will damage tourism and the UK's reputation as a commercial centre.
Writing in the Daily Mail, Steve Moxon, a former immigration official, says the service has descended into chaos.
He blames what he calls a malign combination of epic mismanagement and political ideology.
'Decent families'
There are many tributes to political strategist and pollster, Lord Gould, who has died at the age of 61.
Writing in the Independent, Lord Mandelson calls him the man who saved Labour and made it electable again.
In the Guardian, Alistair Campbell argues that Lord Gould was much more than just Tony Blair's pollster.
What he did best, he says, was to ensure the voice of ordinary, decent British families was always heard at the top table of British politics.
Jackson verdict
Many papers feature photographs of Dr Conrad Murray as the jury announced that he was guilty of the involuntary manslaughter of Michael Jackson.
The Daily Express says he appeared stony-faced and tired.
For the Sun, the trial was a sad and undignified postscript to what it calls the glorious, life enhancing phenomenon that was Michael Jackson.
The Daily Mirror says Dr Murray showed no emotion, while outside hundreds of the singer's fans cheered.