Migrationwatch UK petition on immigration tops 100,000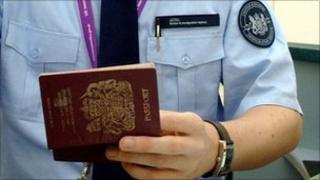 An online petition urging ministers to curb immigration has gained more than 100,000 signatures in a week - making it eligible for a Commons debate.
Migrationwatch UK's e-petition calls for "all necessary steps" to stop the UK's population exceeding 70 million.
A YouGov survey for the pressure group suggested four fifths of people in England think the country is crowded.
Immigration Minister Damian Green said "sweeping changes" were being introduced to reduce net migration.
Migrationwatch UK polled 1,561 Britons - including 1,341 English people.
One in 30 (3%) of those polled in England said the country was not crowded, and about one in six considered it "about right".
'Powerful expression'
The most recent projections from the Office for National Statistics suggest the UK population is set to rise from 62.3 million last year to 70 million within 16 years.
Of the total number of people surveyed, more than three quarters said they were concerned about the population projections, with more than a third "very concerned", and only a fifth not worried.
E-petition rules state that if an issue tops 100,000 signatures on the government's dedicated website before a deadline, it becomes eligible for a possible debate in the House of Commons.
Campaign group chairman Sir Andrew Green acknowledged that MPs were not obliged to debate the petition.
But he added: "It would be amazing if they tried to brush aside such a powerful expression of public opinion on an issue crucial to the future of our society".
Mr Green said: "Immigration to the UK has been too high, which is why we are making sweeping changes to reduce net migration from hundreds of thousands to tens of thousands.
"We have already introduced a limit on non-EU workers coming to the UK and radically overhauled the student visa system to cut abuse."
Meanwhile, Home Secretary Theresa May has admitted she does not know how many people came into the UK without proper checks.
An inquiry has been ordered into claims identity checks on travellers from outside Europe were scaled back in the summer, without ministerial approval.
Mrs May said those responsible would be punished, while Downing Street said she had the "full confidence" of Prime Minister David Cameron.