Newspaper review: Greece money crisis concerns papers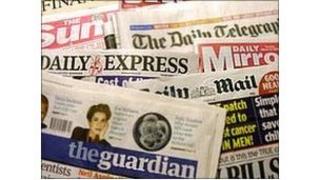 Greece, declares the Times, has stepped back from the brink with its decision to form a unity government.
But there is a widespread belief that this is not the end of the matter - both for the countries that use the euro and those that do not.
The Daily Mail argues that the Greek bailout just delays an inevitable default and exit from the euro.
The Daily Telegraph cites research that suggests Britain would be better off in five years' time if the euro collapsed.
Class war
Ed Miliband provides the main story for the Independent in what is described as his strongest attack yet on the prime minister.
The Labour leader says David Cameron is doing a terrific job looking after the powerful and the wealthiest one per cent, while the rest feel desperately let down.
Labour aides deny the party is resorting to class war.
But the Independent says it is getting close to it by suggesting that Mr Cameron's background makes him incapable of addressing inequality.
Border debate
Questions facing the government over the relaxation of passport checks prompt a clear split in attitudes towards queuing at immigration.
The Daily Mail accepts that rigorous US-style border checks may not be much fun.
But it feels that most of us would see them as far more preferable to a murder or terrorist atrocity.
The Independent's travel editor Simon Calder says he hates being considered a terrorist each time he goes to the US until he can prove otherwise. Britain, he argues, is better than that.
'Mane' line
Reports of a lion on the loose near a railway line in West Yorkshire clearly proved too much for the headline writers to resist - even though the stories turned out to be false.
The Sun comes up with "The mane line". "Train panic after lions spotted near railway," it continues.
The Daily Telegraph says that as wild excuses for rail delays go - it had to take pride of place.