Class A drug seizures rise - UK Border Agency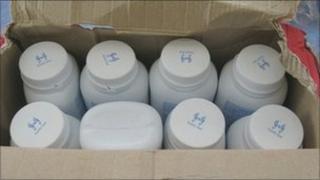 The amount of Class A drugs seized at British ports and airports has seen a large rise, according to figures.
More heroin and cocaine was found between April and September than in the whole of the previous 12 months, UK Border Agency (UKBA) figures show.
Officials say it is due to better intelligence, closer working between agencies and new screening techniques.
Staff are warning the increase in Christmas post provides an opportunity for gangs to smuggle drugs in.
Between April and September, staff at UK ports and airports seized 2,116kg of cocaine and 773kg of heroin.
That is more than the entire amount found in the year to the end of March, and is on course to be the highest annual total for nearly a decade.
Among the finds was a record £300m haul of cocaine from a pleasure cruiser at Southampton docks, in Hampshire.
Traffickers also recently attempted to conceal 80kg of heroin in sacks of red chilli powder. It had been shipped in a container which arrived at Felixstowe, Suffolk.
Jim Jarvie, head of investigation at UKBA, said: "It was not a nice thing to examine. Chilli disguises the smell and puts the sniffer dogs off."
Officials said that following successes against Turkish heroin-smuggling gangs there had been an increase in heroin smuggled in from Pakistan by parcel, air freight and container.
"The trafficking groups work 365 days of the year devising ways of smuggling drugs into the UK," said Mr Jarvie.
"Post is a real problem."
Choking off supply
In July, two men were jailed for a postal smuggling scam involving £4.2m of heroin hidden in bottles of baby powder.
The innocent-looking bottles were sent to Pakistan, filled with heroin, re-sealed and sent back to a range of addresses in the UK with labels such as "return to sender" and "undeliverable".
Border staff say they rely on intelligence and screening techniques to identify which of the estimated 100,000 parcels and packages that arrive in Britain from overseas every day may contain drugs.
That becomes an even greater challenge for staff in the run-up to Christmas, when the amount of post increases by about 30%.
"We need to identify the controlling minds behind the organised crime groups - and take money off them," said Mr Jarvie.
There are signs that the increase in Class A drug seizures is choking off supply, with a rise in the average price of heroin paid by dealers and a decline in levels of purity of the drug on the street.
In October, the National Treatment Agency (NTA) said measures to restrict the supply of drugs had contributed to an unprecedented reduction in the number of heroin and crack cocaine users.
The NTA said there were 10,000 fewer addicts in England seeking treatment than two years ago.