Munir Farooqi family face terrorism law property seizure bid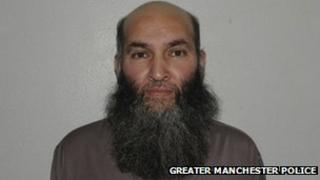 The family of a convicted terrorist could face losing their home, after police decided to use terror laws for the first time to seize the property.
A court is to decide whether the property was used as a base to commit the offences, and if it is in the family's interest to move.
Munir Farooqi was given four life sentences in September 2011 for trying to recruit two undercover police officers for jihad in Afghanistan.
He was convicted of terrorism offences, preparation for terrorist acts overseas, three counts of soliciting to murder and dissemination of terrorist publications.
In the first case of its kind in the UK, Greater Manchester Police want to seize the property under clause 23a of the Terrorism Act 2000, which says that if a person is convicted, the police can apply to the courts for a forfeiture order.
In this case, the police want to seize the family's large, Victorian house in Longsight, Manchester.
The Farooqi family say they will fight the court order, and have set up a campaign to save their home.
Munir Farooqi's daughter Zulaika said: "Leaving three generations of a family homeless, including an eight-month-old baby, is disgusting, it's not British law, it's just wrong and inhumane.
"We have so much public support against this, not just from the Muslim community but also from non-Muslims too. This is not just a Muslim issue."
Her brother, Harris, who also faced terror charges but was found not guilty, said: "The women and two children in the house are totally innocent and should not be punished. We shouldn't face collective punishment.
"This law has never been used against anyone before."
He added that their campaign was about human rights, and that his father Munir Farooqi was to appeal against his conviction.
Saeed Hafezi, a solicitor who is representing the family, also feels the action being taken by the police is unfair.
"It was never the intention of Parliament for applications to be made in this way. It is the family home and will continue to be," he said.
The Farooqi family says about 5,000 people have signed an online and paper petition which calls on the British public to oppose collective punishment.
Human rights activist Naila Ashraf said it was "totally unacceptable" for the law, the police and the Crown Prosecution Service to "criminalise a whole family".
She said: "This is supposed to be a democratic country, do we really want to go down this route?"
People who live in the Longsight area have mixed views about the police's attempt to forfeit the house.
Nasar Khan, a 26-year-old student, said: "If someone breaks in to someone's house, his family shouldn't have to pay for the crime, it's totally wrong."
However, Sylvia, a shopper, said: "If someone has broken the law and committed these acts, then their house should be taken off them."
This view was also echoed by Darren Smith, who said the house should be taken from them.
"The father should have thought about what would happen before he did it," he said.
'Very careful consideration'
Assistant Chief Constable Dawn Copley said in a statement that Munir Farooqi had been convicted of terrorism-related offences and that he had carried out most of them at the family home.
"After very careful consideration, Greater Manchester Police and the Crown Prosecution Service have decided to proceed with an application for a forfeiture order, but the court will make the final decision," she added.
The Metropolitan Police said it would be watching the outcome of the case with interest.
It now remains for a court to decide, after factoring in the family's interests, whether to allow the property to be seized.
The case is expected to be heard in March next year, so the family will not know its fate until then.