Prince Charles tells models of 'timeless' fashion sense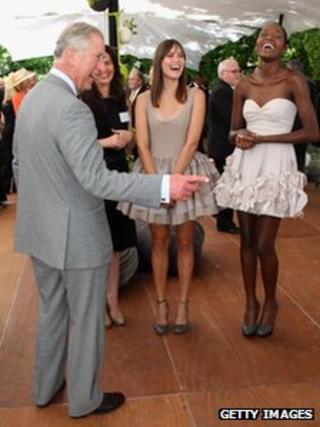 The Prince of Wales met some of South Africa's top models - and chatted to them about his own "timeless" dress sense - during his tour of the country.
Prince Charles met the models at a reception to highlight the benefits of using wool in clothes and furniture.
He joked with the models: "My fashion sense only changes every 25 years."
The prince is on an eight-day tour of Commonwealth countries with the Duchess of Cornwall. Camilla visited a township in Cape Town on Saturday.
The prince, who wore a grey woollen suit over a pale blue striped shirt with a striped tie, met models Donnet Dumas, 25, from South Africa and Lukundo Nalungwe, 24, from Zambia, who was the Face of Africa in 2010.
As he admired their short woollen cocktail dresses, he described his style: "I'm a classic, timeless, man."
'Dreaded thing'
The models said he asked them about their careers and whether they had any training, and they told him they did not.
The prince asked: "Do you have to get up on that dreaded thing - the catwalk?"
Miss Nalungwe told him she had done some catwalk modelling, but Miss Dumas said she had not done as much.
While he chatted to the models, whose dresses were designed by South African fashion designer Karen Ter Morshuizen, he accepted a glass of Pimms.
Township
The prince was also shown some other wool products and some sheep.
He later visited a township and saw solar heater systems installed on many of the tin-roofed shacks. He climbed up to a vantage point to look out over the Khayelitsha township, which houses more than one million people.
The royal couple will also travel to Tanzania during their visit, which ends on 9 November.
Taking place a month before the Durban Climate Summit, the themes for the tour include the environment and sustainability, education and trade.