M5 motorway crash: How safe are Britain's motorways?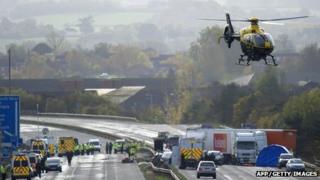 After one of Britain's worst road accidents left seven people dead and scores more injured, we ask just how safe are Britain's motorways?
Many people will have woken on Saturday morning to the tragic news of the multiple pile-up on the M5 in Somerset.
Motorway accidents are certainly a regular occurrence, but experts say an incident on this scale is very rare.
In fact, they say Britain has not seen a road traffic accident on this scale for more than 20 years.
The only comparable incident, according to the AA, was a major crash involving 51 cars on the M4 in Berkshire in March 1991, which left 10 people dead and 25 injured.
So just how safe are these vital arteries, which keep the UK moving every day of the week?
Andrew Howard, head of road safety at the AA, says motorways are "our safest roads by a long, long way".
But road safety charity Brake says although there are fewer crashes on motorways per mile travelled than on other roads, when they do happen they are more likely to lead to death because of the high speeds involved.
In the UK, 2% of motorway crashes are fatal, compared with 1.4% of all crashes, according to the charity.
'Daily carnage'
"It [the M5 incident] is incredibly tragic," says Brake senior campaigns officer Ellen Booth.
"But it's really important to stress that this kind of carnage is happening on a daily basis on our roads - five people are killed every day, but this often doesn't make the headlines."
Since 5 December 1958, when Britain's first stretch of motorway - the eight-mile Preston bypass - opened for business, motorways get us from A to B quicker than other routes.
But the government is considering allowing motorists to go even faster.
It believes the current speed limit of 70mph is out of date due to "huge advances in safety and motoring technology", and it should be increased to 80mph in England and Wales.
Currently, in Ireland and Spain the speed limit is 120km/h (75mph), in France it is 130km/h (81mph), while German autobahns are famous for being some of the few public roads in the world without blanket speed limits.
Department for Transport (DfT) figures show that as many as 49% of drivers currently flout the current 70mph limit - and Brake claims a move to 80mph would see speeds on Britain's motorways pushed ever higher.
In 2002, the Commons Transport Select Committee looked at raising the limit but decided against the move because it would result in a 5-10% increase in casualties on motorways.
"Government policy should not be doing anything to increase the number of man-made, unnatural deaths occurring," says Ms Booth.
She continues: "It's relevant to today's story [the M5 incident] because if you raise the motorway speed limit it sends out the message that it's ok to go faster on our motorways."
'Deaths halved'
DfT figures show that in 2010 there were 118 motorway fatalities from a total of 1,850 on Britain's roads; while in 2003 there were 217 fatalities from a total of 3,500.
Effectively, says Mr Howard, motorway deaths have been halved in the past seven years.
In fact, the Association of British Drivers (ABD) says despite the UK's motorways being significantly busier than other European motorways, there are far fewer fatalities.
In 2009, there were 1.2 fatalities per billion vehicle-kilometres on Britain's motorways - roughly on a par with Swiss motorways, according to figures quoted by the ABD.
In Denmark, that figure rises to 2.5 and Austria 4.2, and in the US it stands at 4.5.
But when compared to other forms of travel, such as by train or plane, motorways are more dangerous.
There were six deaths last year (not including suicides or trespass) on Britain's train network, according to the Office of Rail Regulation. And the Aircraft Crashes Record Office says in 2010 there were 130 accidents resulting in 1,115 fatalities worldwide.
'Head-on collisions'
Mr Howard says it is fairly logical that motorways are our - as he puts it - safest roads, given the four most common causes of road accidents:
"Vulnerable road-users", for example cyclists or pedestrians - are not allowed on motorways
Head-on collisions - unlikely given motorway drivers travel on opposite sides
Junctions - very few on motorways
"Falling off the road" - barriers lessen this risk
And, according to Mr Howard, we have come a long way since the opening of the first motorway. He says safety improvements come down to what he describes as the three Es - better engineering of cars and roads, better enforcement and better education.
But road safety charity Brake says there is more to be done to improve safety and reduce fatalities on Britain's motorways.
It says, for example, more adequate crash barriers are needed on many motorways.
Its website cites the incident that sparked the Selby rail crash on 28 February 2001, in which motorist Gary Hart fell asleep at the wheel on the M62.
His vehicle left the motorway, went down a bank and on to a train line, causing a passenger train to derail and hit a freight train travelling the other way. Ten people were killed.
Brake says that government guidance does not recommended lengths for barriers at different sites. However, the DfT did later develop an "assessment tool" for authorities to assess protection required at different sites.
Another issue, Brake says, is there is too few rest stops for tired drivers.
The charity's own research suggests that in the past year, one in eight drivers fell asleep at the wheel for between two and 30 seconds. The survey of 1,000 drivers also found one in four admitted driving when they felt drowsy.
The AA's Mr Howard says staying safe on our motorways goes back to good old fashioned advice.
"It's getting the speed right so you can stop if anything happens - the key is speed and stopping distances," he says.