Jarrow marchers reach London's Trafalgar Square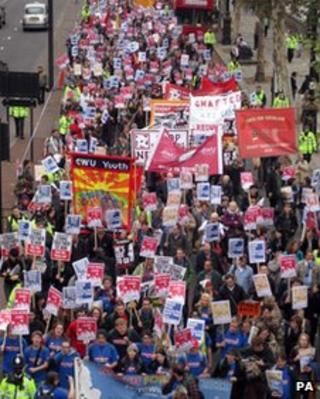 A group of protesters have reached Trafalgar Square in the final leg of their re-enactment of the 1936 Jarrow March.
The marchers walked from north-east England to London in protest against youth unemployment.
They followed in the footsteps of 200 jobless men who completed the feat in 1936 carrying a petition calling for action to create jobs.
Ministers insist they are taking action to tackle unemployment.
Dozens of people completed this year's march, which began on 1 October.
A rally took place in Trafalgar Square after the marchers reached the capital on Saturday, gathering at the Embankment overlooking the River Thames.
Protesters carrying banners gathered to welcome the procession. One read: "I will fight for my grandson."
Jarrow MP Stephen Hepburn told the assembled crowd that a "cancer" lay in the City of London, and praised protesters camping outside St Paul's Cathedral.
Standing under Nelson's Column on a fire brigade truck supplied by the Fire Brigades Union, he added: "We won't accept the crumbs on the table."
A rapper from London then took centre stage and denounced the London rioters in verse - before urging normal people to rise up peacefully.
RMT union general secretary Bob Crow also addressed the crowd.
Protesters handed a petition to 10 Downing Street demanding a government job creation scheme, apprenticeships, the reinstatement of the Education Maintenance Allowance and the reopening of axed youth services.
They are also calling for an end to university tuition fees.
Felicity Boey, 12, whose great-grandfather took part in the 1936 protest, was among those waiting to greet this year's marchers.
She said: "I'm very proud to be the great-granddaughter of a Jarrow marcher.
"I can't imagine walking that far!"
Another young girl, also a great-granddaughter of one of the original marchers, told the crowd: "We've just handed in our petition.
"We just hope they'll listen to us this time."
The march was organised by protest group Youth Fight for Jobs.
Spokeswoman Claire Laker Mansfield said: "Young people have shown that far from being lazy or scroungers, they want a future with decent jobs and education.
"The marchers have received huge support up and down the country.
"People have fed them, put them up and made it clear they back our demands."
She continued: "We think it is unfair that in the 21st Century, young people are facing long-term unemployment.
"There are almost a million young people out of work, and the jobs market is not getting any better."
The government says it is taking action to tackle unemployment by creating 300,000 new apprenticeships and rolling out its Work Programme.
A Department of Work and Pensions spokeswoman said: "We are determined to address youth unemployment and are working hard to widen the opportunities available to young people to ensure that they are provided with the support they need.
'Personalised support'
"We've committed to creating the biggest and best apprenticeship programme our country has ever seen, with funding in place for 360,000 apprenticeships this year alone.
"Our new Work Programme is also providing personalised support and training to help unemployed young people into work."
One of the protesters who set out five weeks ago had abandoned the march after getting a job.
Paul Phillips, 22, from Newcastle, left one week in after securing work in a call centre.