William and Kate opt for Kensington Palace home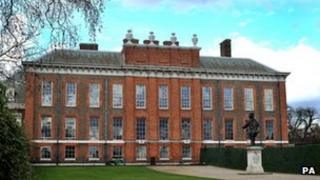 The Duke and Duchess of Cambridge have decided to take the former home of the Queen's sister, Princess Margaret, as their permanent London residence.
St James's Palace said the couple had chosen an apartment in Kensington Palace to be their base in the city.
However, they will not move in for two years because structural improvements are needed to make it habitable.
Margaret and Lord Snowdon lived in the apartment after they wed in 1960, the last time major work was carried out.
The princess remained in the property after she and her husband divorced in 1978. It had a variety of uses after she died in 2002.
Large amounts of asbestos need to be removed and repairs must be carried out on the heating and hot water systems, as well as electrical wiring, before William and Catherine can move in.
Taxpayer funding
The estimated cost of the structural improvements is not known because survey work has not yet been carried out.
The cost will be met by the government's grant-in-aid budget - provided to the Royal Household for the upkeep of residences - and the sovereign support grant, which will replace it from 2013.
The plans have been approved by the Queen and the Prince of Wales. William's household will follow him from their offices at St James's Palace to the historic building, which has been a royal residence since 1689.
The Duke and Duchess currently live in another, smaller property at Kensington Palace when in London.
Prince Harry is expected to move there, from an apartment at Clarence House, when the royal couple take up their new home.
William is an RAF Search and Rescue Force helicopter pilot and - when working - lives with Catherine close to his RAF base in north Wales.
A St James's Palace spokesman said the apartment into which they are moving is currently managed by the charity Historic Royal Palaces and is used for purposes such as offices, classrooms and storage.
"The extent of the work needed to turn the apartment back into a home is not yet known but it is expected that the apartment will not be ready for occupation until at least the middle of 2013," he said.