Four bomb plotters confirmed as high escape risks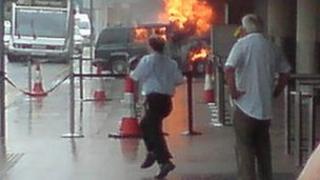 Four jailed bomb plotters have been confirmed as "high escape risks" by the High Court.
Two judges rejected claims that the Prison Service had acted unlawfully by placing them in that category.
Bilal Abdulla, Tanvir Hussain, Assad Sarwar and Ramzi Mohamed were convicted at three different trials of conspiracy to detonate bombs or blow up aircraft.
The court heard that they were being subjected to a "particularly restrictive" regime.
This included hourly checks which disrupted their sleep and regular changes of cells, their barrister Hugh Southey QC said.
Mr Southey said the four also faced more intrusive and regular searches than other prisoners and they underwent "stressful" monitoring of social visits and phone calls despite what he contended was a lack of "valid intelligence".
But the court rejected the application for a judicial review of a decision in March 2010.
'Continuing danger'
The four are all serving life sentences with minimum jail terms of more than 30 years before they can be considered for parole.
Their Category A status means the men are thought to pose a continuing danger to the public and their escape from prison should be made impossible.
NHS doctor Abdulla, 31, was sentenced in December 2008 to a minimum of 32 years in jail after being convicted of plotting to set off car bombs in London and at Glasgow airport. He is serving his sentence at Frankland prison in County Durham.
Hussain, 30, is serving a minimum of 32 years at Full Sutton prison near York after being found guilty in September 2009 of conspiracy to murder by planning to destroy seven transatlantic aircraft with home-made liquid bombs, disguised as drinks.
Sarwar, 31, was given a 36-year minimum term after being convicted of being involved in the same plot and is being held at Wakefield prison, West Yorkshire.
Mohamed, 30, is serving a minimum of 40 years at Whitemoor prison in Cambridgeshire after being found guilty with three others of attempting to explode homemade bombs on the London transport network on 21 July 2005.