Court awards £17,000 to detained illegal immigrant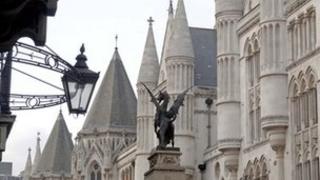 An illegal immigrant has been awarded £17,360 at the High Court for being wrongly imprisoned.
Joseph Mjemer, who arrived in the UK as a stowaway in 2003, was held by Home Office officials as they tried to establish his country of origin.
Judge Stephen Stewart QC concluded he should be freed and paid damages by the Home Office for loss of liberty.
Mr Mjemer, 28, was convicted of more than 20 offences in the three years following his arrival in Britain.
A UKBA spokesperson said: "We are very disappointed by the High Court ruling. Mr Mjemer has shown a consistent disregard for our laws and we are determined to pursue his deportation."
The High Court in London heard Mr Mjemer arrived in the UK on a ship in 2003 and claimed asylum.
Over the following three years, he was convicted of offences including property damage, dangerous driving and attempting to obtain property by deception.
He was jailed a number of times before being taken into "administrative custody" in 2007 because officials feared he would abscond if freed while officials tried to establish where he came from.
Legal aid
The judge ruled that the detention had been lawful for most of that period, but had been illegal between January and May 2011 because attempts to establish his nationality had faltered and there had been no realistic prospect of deportation.
Mr Mjemer, who brought the action after being granted legal aid, had also used at least five aliases and claimed to be British, Italian, Moroccan, Algerian and stateless.
Judge Stewart said he thought there was a low to moderate risk that he would be violent, a moderate risk that he would reoffend and a moderate to high risk that he would abscond.
Mr Mjemer's lawyers had argued he had suffered psychiatric harm as a result of being illegally detained.
But the judge said there was no evidence of "substantial deterioration" during the period of unlawful detention and rejected a claim for "aggravated damages".
Judge Stewart ruled that Mr Mjemer had been unlawfully held following a hearing in May, but announced the amount of damages following a further hearing on Thursday.
Following the May hearing, lawyers told the judge that Mr Mjemer would be freed, fitted with a monitoring tag, have to live at an address in West Drayton, west London, and be made to report regularly to a police station while Home Office investigations into his country of origin continued.