Sun journalist held in payments-to-police inquiry bailed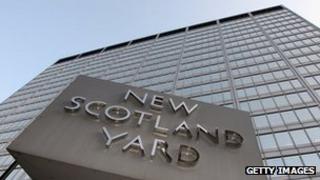 Detectives investigating claims of payments to police officers have questioned and bailed a 48-year-old News International journalist.
The man is understood to be Jamie Pyatt, who works for the Sun.
He was held as part of Operation Elveden, which is looking at allegations of inappropriate payments to police, and bailed until March.
Operation Elveden is running in parallel with Operation Weeting - the phone-hacking inquiry.
The journalist was cautioned under Section 1 of the Prevention of Corruption Act. This is the sixth arrest by the Operation Elveden team.
He was arrested at about 10:30 GMT on Friday at an address outside London and taken to a west London police station for questioning.
A News International spokeswoman confirmed the arrest of an employee. "News International is co-operating with the Metropolitan Police in its various investigations," she added.
On Thursday police said that the number of possible victims of phone-hacking by the News of the World now stood at close to 5,800.
Compensation scheme
Several high-profile figures have taken legal action against News International since the issue emerged.
A High Court judge is due to hear evidence from a group of the claimants at a trial in January, with any rulings he makes expected to provide a blueprint for how other claims are dealt with.
A separate public inquiry - set up by Prime Minister David Cameron and headed by senior judge Lord Justice Leveson - is also due to hear evidence on media ethics and hacking over the next year.
Meanwhile, News International has released details of a voluntary compensation scheme, with former High Court judge Sir Charles Gray appointed as its independent adjudicator.
The company says it will provide a "speedy, cost-effective alternative to litigation" for anyone who had their phone hacked by the News of the World.
A section on the company's website has been set up for potential victims to make applications.