Number of migrant workers settling in UK 'could be cut'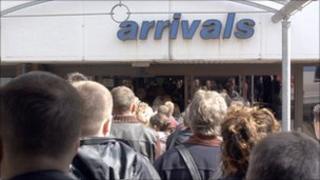 The number of workers settling in the UK would be cut by two-thirds if there were a minimum salary threshold of £35,000, government advisers say.
The Migration Advisory Committee (MAC) said migrants and dependents allowed to stay would drop from 60,000 to 20,000.
An earnings test was the best way to decide if workers should be allowed to stay after five years, it said.
The numbers from outside the EU who settle would still halve without this move, the committee added.
This was because of other changes already being made by ministers, such a tightened English language requirement, an annual cap on migrant workers from outside the EU and plans to restrict students.
The British Chambers of Commerce (BCC) say employers need to be able to hire "the best and brightest" and advised that - should ministers adopt the committee's proposals - they must watch for any adverse impact on the business sector.
Professor David Metcalf, head of the MAC, acknowledged that the government had already made changes affecting migrant workers but said it was "absolutely legitimate" to go further to get settlement "under control".
He said the MAC was recommending a pay threshold as "the best way to decide if a worker can stay in the UK".
"We believe that pay is the right criteria. First of all it's a good reflection of skill; it's also the case that pay is what's used presently at entry; and it's also got a considerable advantage in that it's simple," he added.
Prof Metcalf said some nurses might fail to qualify for settlement if there were a pay threshold, so the government could consider exceptions for key public sector jobs.
Under the proposals a pay threshold would be set somewhere between £31,000 and £49,000.
A worker would have to prove they were earning the relevant amount of money to be able to apply for settlement after working for five years in the UK.
It would apply to skilled workers, those covered under "Tier 2" of the government's points-based immigration system.
Government must be 'watchful'
Adam Marshall, director of policy at the BCC, said employers "need to be able to hire the best and brightest to grow their companies".
He said: "If the government accepts the committee's recommendation to introduce a £35,000 floor, it must be watchful to ensure no local economy or business sector is unfairly disadvantaged. The level certainly should not be any higher.
"The biggest challenge is to ensure that the language the government uses when discussing migration makes it clear that we want to attract the best international talent to the UK.
"If migrant workers don't feel wanted, our global competitors will snap them up instead."
Prof Metcalf said the UK's GDP could fall if fewer skilled migrants came to Britain.
But he added that tightening rules on settlement may not make this problem worse, as there could simply be "greater churn" with new migrants replacing temporary workers.
It was unlikely the changes would deter the "brightest and the best" from coming to the UK, as talented workers would be "earning this kind of money," he said.
The government has pledged to cut annual net migration to tens of thousands by the end of the Parliament.