Newspaper review: Euro debt crisis focus of front pages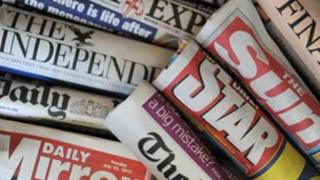 The crisis in the eurozone and Greece's planned referendum on the debt rescue deal dominate many of the front pages.
The Daily Mail accuses Germany and France of blackmailing Greek PM George Papandreou into abandoning the vote.
Angela Merkel and Nicolas Sarkozy bulldozed the ballot into oblivion in an effective show of brute force in Cannes, the Daily Telegraph tells us.
But the Guardian reports that he was forced to scrap the referendum because of open warfare in his socialist party.
'Guillotines'
One Athens fruit-seller voiced his anger with the country's politicians by telling the paper that guillotines should be erected outside parliament.
The Financial Times speaks of Mr Papandreou's government "bristling with rebellious ministers fed up with his idiosyncratic leadership style".
The Times claims G20 leaders became spectators as he performed a series of political pirouettes over his plans.
And the Independent says time and luck are running out for the Greek leader.
Attack fears
Elsewhere, the Daily Mirror says a terror suspect given refugee status by the UK has been banned from flying back amid fears he is plotting an attack.
It says the government has ordered airlines around the world to bar the Algerian from returning to the UK after months of investigations into his activities.
A new drug for advanced prostate cancer provides "huge advances" in treatment, according to the Daily Telegraph.
It says interim test results show those given the drug lived almost five months longer than patients on a dummy pill.
Butcher crowned
The Daily Express claims a handful of nuts a day could help prevent obesity.
It says researchers in Barcelona found eating raw walnuts or almonds produced more of the brain chemical serotonin, which helps reduce feelings of hunger.
Finally, the Daily Mail visits a butcher's shop in Bridport, Dorset, which has been declared the UK's oldest continuously trading family business.
It says RJ Balson and Sons can boast an astonishing history going back 25 generations to 1535 when Henry VIII was on the throne.