British soldier shot dead in Afghanistan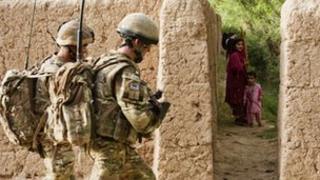 A British soldier has been shot dead in Afghanistan, the Ministry of Defence has said.
The soldier, from the 2nd Battalion the Mercian Regiment, was killed on Thursday in Nahr-e Saraj District, Helmand Province.
He had been taking part in a patrol when it was attacked by insurgents.
The soldier's next of kin have been informed. His death takes the total number of service personnel killed in Afghanistan since 2001 to 384.
A spokesman for Task Force Helmand, Lt Col Gordon Mackenzie, said: "The death of this brave soldier is a tragedy which has affected us all.
"His loss will be deeply felt by his family, friends and loved ones, and our thoughts and prayers are with them at this very difficult time."
Last month, ceremonies took place to mark 10 years since the US and UK launched the campaign known as Operation Enduring Freedom, in the wake of the 9/11 terror attacks.