Salman Butt and Pakistan bowlers jailed for no-ball plot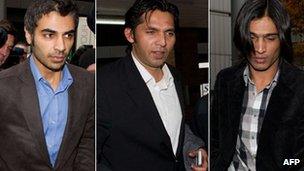 Former Pakistan cricket captain Salman Butt has been jailed for 30 months for his part in the conspiracy to bowl deliberate no-balls in last year's Test match against England.
Former world number two Test bowler Mohammad Asif, 28, was jailed for one year and bowler Mohammad Amir, 19, has been sentenced to six months.
Cricket agent Mazhar Majeed was jailed for two years and eight months.
Knowing when no-balls will be bowled can be of great value in betting scams.
The judge, Mr Justice Cooke, said cricket matches would forever be tainted by the scandal.
"The image and integrity of what was once a game but is now a business is damaged in the eyes of all, including the many youngsters who regarded you as as heroes and would have given their eye teeth to play at the levels and with the skills that you had."
The Pakistan Cricket Board said the conviction of the players was "a sad day for Pakistan cricket".
In February all three players were banned for five years by the International Cricket Council. All three are appealing against their suspensions.
But former England cricket captain Michael Vaughan said they should have been given lifetime bans.
The three players have all been ordered to pay compensation towards prosecution costs. Butt, 27, was ordered to pay £30,937, Amir £9,389 and Asif £8,120.
The men were arrested after the fourth Test between Pakistan and England in August 2010.
An undercover News of the World (NOTW) reporter paid Majeed £150,000 for details of the precise timing of three no-balls, which the players were persuaded to bowl, which were extremely valuable on the spot-fixing betting market.
Majeed claimed to have paid Asif £65,000, Butt £10,000 and Amir £2,500.
The judge told all the players they would be released on licence half way through their sentences if they behaved.
The trial heard that the cheating would never have been exposed without the investigative journalism of the NOTW.
The judge said: "Whenever people look back on a surprising event in a game or a surprising result, or whenever in the future there are surprising events or results, followers of the game who have paid good money to watch it live or watch it on television will be left to wonder whether there has been fixing and whether what they have been watching is a genuine contest between bat and ball."
He made no orders for compensation regarding the £150,000, adding: "I consider that the NOTW got what it bargained for."
Butt, described as the "orchestrator" of the scam, was sentenced to 30 months for conspiracy to accept corrupt payments and two years conspiracy to help others to cheat at gambling, to run concurrently.
His solicitor, Paul Harris, said he would be lodging an appeal against the severity of his sentence within 24 hours.
The player's wife has just given birth to a son and his sister, Rubab, said the family were under stress.
Speaking to the BBC's Aleem Maqbool in Pakistan, she said: "His wife, ever since she had the surgery with the baby - they haven't been eating, they keep crying."
Asif was sentenced to a year for both conspiracy to accept corrupt payments and conspiracy to help others to cheat at gambling, to run concurrently.
Amir, described by the judge as "impressionable" was sentenced to six months for both conspiracy to accept corrupt payments and conspiracy to help others to cheat at gambling, to run concurrently.
His barrister, Henry Blaxland QC, initially said he would be seeking bail pending an appeal against his client's sentence.
Majeed received two years and 8 months for conspiracy to make corrupt payments and 16 months for conspiracy to allow others to cheat at gambling, to run concurrently.
Butt, Asif and Majeed are thought to have been sent to Wandsworth prison in south London while Amir will serve his sentence at Feltham young offenders' institution in west London.
The sentencing of the cricketers is dominating news headlines in Pakistan.
BBC correspondents say there is a lot of public anger in Pakistan about the spot-fixing scams. Ordinary people say they feel the country has been let down by the actions of these cricketers.
Pakistan Cricket Board spokesman Nadeem Sarwar said: "Instead of having pride in playing for their country, these players chose to disappoint their supporters, damage the image of their country and bring the noble game of cricket into disrepute. There is little sympathy in Pakistan for the sorry pass they have come to."
He said the PCB was introducing measures to stamp out corrupt behaviour, which will include training courses particularly aimed at younger players. The Pakistan government will also be urged to make corruption in sport a criminal offence.
Related Internet Links
The BBC is not responsible for the content of external sites.