Pakistani cricketers' families shocked by jail terms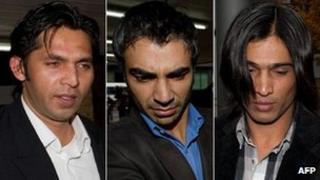 Relatives of the Pakistan cricketers convicted in London over a "spot-fixing" scam have expressed shock at the players' jail sentences. But some cricketing figures have said they have no sympathy with the players.
Former captain Salman Butt, 27, and fast bowler Mohammad Asif, 28, were found guilty on Tuesday of conspiracy to cheat and conspiracy to accept corrupt payments. Another bowler, Mohammad Amir, admitted the charges before the trial.
The three plotted to deliberately bowl no-balls during a Lord's Test match against England last summer.
On Thursday, Mr Justice Cooke sentenced Butt to 30 months , Asif to 12 months and Amir to six months imprisonment. The three players have also been ordered to pay compensation towards prosecution costs.
The International Cricket Council had already banned the cricketers from playing for five years.
Cricket agent Mazhar Majeed was jailed for two years and eight months.
Salman Butt's father Zulfiqar [to Express Channel]
My son has been implicated and made a scapegoat.
I will produce evidence and documents to prove what is really happening in this case.
Salman Butt's sister Khadija
The punishment is unfair; it is shocking. Our brother is innocent.
We talked to him this morning. He was very upset and asked us to pray for him... His crime is that he was at the wrong place at the wrong time.
Salman Butt's sister Rubab
My mum is not well. His wife, ever since she had the surgery with the baby - they haven't been eating, they keep crying - there's tremendous stress and there's a lot of tension.
But it's quite natural of course because he's my only brother, he's my mum's only son; he means everything to us.
And he's in a foreign country, he's all alone, none of us is there with him and it's quite painful.
Mohammad Amir's mother Nasim Akhtar [to AFP]
My son is innocent and he did the no ball at the asking of the captain.
I spoke to him two days ago and he asked me to pray for his acquittal...
I'm ill after this case, suffering from several diseases and I may not be here (when he gets out).
My prayers are with my son and only Allah will do justice with us.
Mohammad Amir's brother Mohammad Ijaz [to AFP]
He should not have been sentenced after his confession.
We were under the impression that he will be released after the imposition of a fine.
Pakistan Cricket Board spokesman Nadeem Sarwar
The conviction and sentencing of some Pakistani test players is a sad day for Pakistan cricket.
Instead of having pride in playing for their country, these players chose to disappoint their supporters, damage the image of their country and bring the noble game of cricket into disrepute. There is little sympathy in Pakistan for the sorry pass they have come to.
PCB is determined to ensure that any form of corrupt behaviour from Pakistan cricket is stamped out.
Former Pakistan coach Waqar Younis [to AFP]
I was part of the team when the whole episode took place. It was an ugly side of cricket. I don't know much about the criminal law in England but cricketers being sentenced to jail is sad for cricket and bad for Pakistan.
Unfortunately it has happened now and I pray the whole episode should end and clear the Pakistan team to start afresh.
I could not even think of any of these guys being involved when the whole thing was taking place. If I knew then things could have been managed differently and the board could have got involved and unfortunately it ends this way and they have to suffer.
Former Pakistan captain Imran Khan [speaking to Geo News]
I feel very sad today not only for the players but for Pakistan and its cricket. But the fact is that when these players see corrupt people flourishing in our society they think they can get away with anything.
It is a shameful day for Pakistan cricket today. I feel very bad for Amir in particular because he still very young. I think he saw others doing it and thought he could get away with it as well.
Former Pakistan captain Rashid Latif [to Reuters]
They deserved this punishment, they had it coming.
But now the Pakistan government and Pakistan cricket board should also take action against them.
These convictions will hopefully serve as a deterrent to others in future because cricket should not be allowed to be corrupted by anyone.
Former Pakistan captain Ramiz Raja [to AFP]
I have no sympathy, I have always maintained that in a team when the rest of the guys are fighting to win a game and two or three are fighting against it, trying to sell their souls to the devil, they cannot be afforded any sympathy.
They hurt Pakistan cricket, their fans and even though it may sound rough to some of the fans but justice has been done and they deserved the punishment they got.
Even though it's a sad situation for their families, justice has been done. You need to rid such elements from the game and it's good for Pakistan cricket.
International Cricket Council anti-corruption chief Sir Ronnie Flanagan
I think it (corruption) is certainly not rampant in the world of cricket. I think it is engaged in by a tiny number of people.
Sadly, I wouldn't say the instances we have seen brought to justice are totally isolated either.
The vast, vast majority of cricketers are not only wonderfully talented, but wonderfully ethical people.
It is only a tiny proportion of people, some of whom may have a predisposition to it and some who succumb to the evil advances of other people.
My message to the followers of cricket is keep following, keep loving this wonderful game and don't be thinking that corruption is rampant within the game.
Former cricketer and Telegraph columnist Simon Hughes
I feel maybe the sentence could have been a bit harsher because all these guys are going to be out of jail within - well certainly in Mohammad Amir's case - probably within three months and with the other cases a year and a half or six months.
What actually really saddens me is... that the ICC didn't take a stronger line themselves when they had the chance because when they found these players guilty themselves with their own investigation earlier in the year they only banned them for five years.
I just don't understand that kind of logic. If you get caught doing anything like this which brings total discredit on the game, on yourselves, on your country - it's defrauding the public as much as anything else, they should be banned for life.
Former England captain Michael Vaughan
I hope it sends a shockwave through the game - I really do - and I'm delighted with the way it's been handled.
I still believe there's more out there. I still believe more can be done to try and capture more than just the three that we've been seeing in court over the last few weeks.