Newspaper review: Pensions headache under the spotlight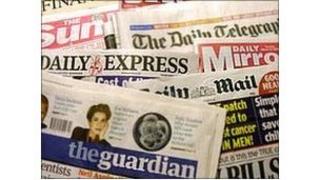 The government's improved offer on public sector pensions comes under scrutiny in the papers.
The Daily Express says it is generous, arguing doctors and teachers cannot remain "wholly immune" from the impact of the 2008 financial crash.
Public sector workers must accept the deal, according to the Daily Telegraph, which argues that refusal would be an "insult" to the country at large.
The Financial Times, meanwhile, says the offer left the unions "unmoved".
Good old days
The Sun thinks the unions are motivated by nostalgia for the "good old days of the 1970s". It says the government should "take them on" not placate them.
And the Daily Mail tells us it expects millions of workers to strike.
With a report out next week on Iran's attempts to become a nuclear power, the Telegraph says it hears "the drums of war beat louder".
The Independent fears that all this "war talk" reflects "Israel's heightened sense of vulnerability".
Summit 'panic'
As G20 leaders meet in France to discuss the eurozone debt crisis, the Independent says what they decide could "make or break the world economy".
The Times says Greece's surprise referendum on its rescue package would make for panic not calm at the summit.
The Guardian describes describes the man at the centre of the fuss - Greek PM George Papandreou - as "personable, polite, and disarmingly mild mannered".
But it says behind his laid-back exterior is a steely backbone.
Stranger in Weatherfield?
The Daily Mail says Waitrose is to sell "weather-damaged apples" rather than the unblemished fruits we've become used to seeing on supermarket shelves.
They "taste just as good" and are cheaper than the "cosmetically perfect" specimens, it tells us.
The Daily Express has a photo of the actor Robert Vaughn as the gun-wielding Napoleon Solo in The Man From Uncle.
The reason? He's to star in Coronation Street next year. The paper asks will he be "a stranger in Weatherfield?"