The songs my soldier son loved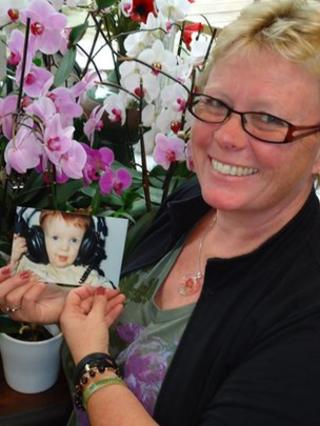 Five bereaved mothers have shared the memories of the sons they have lost in the wars in Iraq and Afghanistan through the songs they will remember them by, in a special series for Remembrance Week.
They pulled out the photos first - Helena, his mother, Rob, his dad, and brother Zac.
And when they had laid them at all angles on the dining-room table like an art school collage, it was the smile of Cyrus Thatcher I noticed first.
Then I saw the smile was in almost every picture - him aged 18 months wearing headphones bigger than his head, the eight-year-old on the beach, the 15-year-old beaming, with his brothers.
Then suddenly serious in army uniform at 18.
Army uniform? But there the photos stopped.
"The photographs always evoke so many memories," said Helena. "I do like to be able to touch and pick them up."
Cyrus, a rifleman in 2nd Battalion The Rifles, was killed by a roadside bomb in Afghanistan at 19, one of the youngest British soldiers to die in the conflict.
The journey that brought me to Cyrus's family home near Reading has been remarkable for a number of reasons.
For me personally, meeting these mums has been the most important and moving thing I have done in 25 years in journalism.
The controller of Radio 2 felt strongly that these documentaries should go out during the day as a unique way of exploring the soldiers' lives.
Family informed
Their stories have literally changed the way I see events around me.
To give an example, pottering around at home a few weekends ago, I heard a news headline on the radio of the sort we are sadly getting used to.
"A soldier has been killed in Afghanistan," intoned the newsreader.
He gave some sketchy details then added as they always do: "The family have been informed."
Previously I would have registered the news for an instant and then gone back to whatever I was doing. But having spoken to Helena, Margaret, Cheryl, Hazel and Carol for our programme, I now understand for the first time what "the family have been informed" means.
For Carol it meant throwing the phone across the kitchen and collapsing. The next thing she knew, paramedics were standing over her.
For Hazel it meant screaming at the two uniformed men who walked up the driveway of her farm in Abergavenny: "Don't you dare tell me that my son's dead! Don't you dare!"
For all of them it meant a day where one life ended and another, full of sorrow, began. And the grieving never stops.
Celebration of life
For Cyrus's mother Helena, the moment everything changed arrived as the family were going to bed.
She opened the bedroom window and saw two suited men walking up the drive. It was during the local elections and she thought it was a bit late for canvassers.
"And then I thought no, it's not, it's bad news. And you know instantly.
"I think your brain won't allow you to really contemplate everything. It sort of drip feeds you little bits because it is too much and you would implode.
"They said we will give you 24 hours before we release his name to the press. You are thinking - 24 hours? That's not really long enough. We are never going to be ready by then because there are so many people to tell.
"We just sat in the garden and rang everybody we could think of. They do scream and they do drop the phone and you do have to say calm down..."
We asked Helena and the other mothers to tell the stories of their sons through the music they loved, in part because I always feel a person's choice of music is like their signature - it says so much about them.
But also because we felt the mothers would often find it easier to play a record than talk about their sons. We got that wrong for sure. They all had much to tell us in celebration of young lives lived to the full, but the songs were, for me, another revelation.
Cyrus Thatcher had a great friend called David. One day, Helena recalled: "The two of them spent the whole afternoon just sitting up in his bedroom laughing and playing this record again and again. Just two teenagers having fun."
She remembered the sound of that laughter and of course she remembered the record - Otis Redding's (Sittin' On The) Dock Of The Bay.
Just a few years later, the giggling teenager, now a man, would be killed.
My family have got used to me saying: "Wait, listen to this song - it's Liam's", or "Hang on everyone, this is one of Mark's."
Last weekend I was walking down the Thames towpath with my daughter Martha, aged seven. We stopped, as we often do, and sat on a narrow stone staircase which leads directly into the river.
Martha said, "Daddy, play that song. The one you really like. Dock of the Bay."
I took out my phone and found it in the file I have simply labelled WAR. Above us it was starting to drizzle. I wrapped the phone in my jacket to keep it dry, and pressed play. Together we listened to a muffled Otis Redding.
Martha was quiet alongside me, looking out across the water.
As the song played it was almost like hearing it properly for the first time.
I thought of Cyrus Thatcher, who gave his life for his country; and his family, who will never stop mourning the smiling boy in those photos.
The Songs My Son Loved can be heard on the Jeremy Vine Show on BBC Radio 2 at 13:30 each day from 7 to 11 November. Listen online afterwards or browse lists of the five soldiers' songs at the above links.