Further Pakistan cricketer implicated in betting scam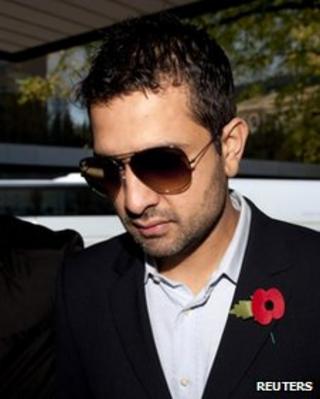 An unnamed Pakistan cricketer was involved in arranging a spot-fixing plot with ex-team captain Salman Butt, a defence lawyer has told a court.
The claims were made at the Southwark Crown Court sentencing of Butt and Mohammad Asif, who have been convicted of deliberately bowling no-balls.
Mohammad Amir, 19, and UK-based agent Mazhar Majeed, 36, had earlier admitted offences over the Lord's Test match.
Majeed claimed to have paid Asif £65,000, Butt £10,000 and Amir £2,500.
The men were arrested after the fourth Test between Pakistan and England in August 2010.
Butt was alleged by the prosecution to have been involved in arranging the no-balls and the claims about the unnamed player's role was made by Mark Milliken-Smith QC, the lawyer acting for Majeed.
The agent said he gave such a high payment to Asif because he feared the bowler would ally himself with a rival Pakistan fixing racket, the barrister said.
"The larger amount was paid in order to ensure that that player remained, as it were, loyal to these people, the players within the dressing room, rather than to others by whom he might be tempted," he told the court.
However, in his mitigation Asif's lawyer, Alexander Milne QC, denied that his client received any money for bowling the no-ball at Lord's.
Mr Milliken-Smith also said Majeed paid the three players from a sum of £150,000 provided by a News of the World (NoW) reporter during the undercover operation that resulted in their arrests.
Former captain Butt, 27, and fast bowler Asif, 28, were both found guilty on Tuesday of conspiracy to cheat and conspiracy to accept corrupt payments.
Amir pleaded guilty to the same charges before the trial began, although this detail could only be reported after there was a verdict on his two former teammates.
It can now be reported that Majeed, from Croydon, south London, also admitted conspiracy to cheat and conspiracy to make corrupt payments at an earlier hearing.
He accused the former Pakistan captain of approaching him in June 2009 and complaining that other Pakistan players were able to buy houses, despite being less experienced and playing in the national side less regularly than him because they earned money through illegal fixing practices.
Butt and another unnamed Pakistan player allegedly told Majeed they wanted to get involved in rigging parts of games, although not results.
Mr Milliken-Smith said the agent did not recruit any of the Pakistan cricketers to fixing, telling the court: "He was, we respectfully submit, yes, the arranger for the players. He was not the corrupter."
'Serious career implications'
Ali Bajwa QC, for Butt, denied Majeed's claims that the former captain approached him about the fixing.
Butt missed the birth of his second son in Pakistan on Tuesday as he and Asif were found guilty.
Appealing for his client to be given a suspended sentence, Mr Bajwa said the former Pakistan captain had been left almost penniless by the fixing scandal and went from a "national hero to a figure of contempt".
The barrister said: "He has lost an extraordinary amount. He stands to lose almost the last thing that matters to him, his family.
"He does not know when he will see his newborn son."
Spot-betting involves gamblers staking money on the minutiae of sporting encounters such as the exact timing of the first throw-in during a football match or, as in this case, when a no-ball will be bowled.
Amir claimed he was involved in fixing only at one match, saying it was a "one-off" but the judge said text messages suggested otherwise.
During the pre-trial hearing, Amir's lawyers agreed a basis of plea with prosecutors when he admitted the same charges as Butt and Asif.
The plea noted: "The defendant's involvement was limited to the final Test match at Lord's on August 26 and 27.
"This was the defendant's first and only involvement, and was therefore an isolated and one-off event.
"The defendant only became involved as a result of pressure (not amounting to physical threats) and influence to the effect that if he did not become involved, he would suffer serious professional implications for his future career."
The trial of Butt and Asif heard that suspicious text messages were sent between Amir and associates in Pakistan on the eve of the Oval Test between 18 and 21 August last year.
They show that on 17 August, Amir sent his bank details to a contact in Pakistan, whom he texted again in a panic after the match-fixing scandal broke on 28 August, asking for details of his calls to be deleted.
The teenage bowler also texted another Pakistan number before the Oval match, asking: "How much and what needs to be done?" and then confirming. "So in first three, bowl however you want, and in the last two, do eight runs?"
Amir and Majeed also exchanged calls and texts on the morning of the third day of the Oval Test, the court heard.
The judge told Amir's barrister, Henry Blaxland QC: "There is no evidence of a 'Yes' on his part, although you will accept, I think, that he was in regular and substantial contact with someone who was undoubtedly seeking to influence him to bowl brackets."
Mr Blaxland responded that Amir at a "relatively early stage" did not return the large number of calls made to him.
'Very worried man'
But Mr Justice Cooke dismissed Amir's claim that he was not involved in fixing before the game at Lord's in north London.
He told the court: "I refuse to accept that basis of plea on the material I have seen.
"There are certainly texts and the like which suggest that Amir's first and only involvement was not limited to Lord's, it was not an isolated and one-off event."
BBC sports news correspondent James Pearce, who was at the court hearing, said the judge wanted to know who had put pressure on him. However, Amir's lawyers said he did not want to blame anybody else and would not be naming names.
Our correspondent said the events in court had been "extraordinary" and showed that "fixing was rife" in the Pakistan team.
The International Cricket Council imposed five-year suspensions on all three cricketers in February over the deliberate no-balls at Lord's.
They are all appealing against the bans.
The hearing has been adjourned until Thursday when sentencing will take place.