Two Britons killed in Saudi bus fire 'on way to Hajj'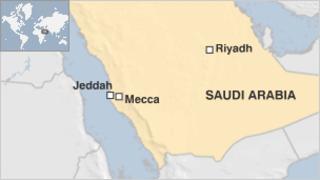 Two Britons have been killed in what is thought to have been a fire on board a bus in Saudi Arabia.
The two people are believed to have been on their way to Mecca for the annual Hajj pilgrimage when the fire broke out near Jeddah airport.
The British Foreign Office said it was aware of the two deaths.
"We're in touch with the local authorities there, and the next of kin and are providing consular assistance at this difficult time," it said.
Few details are known of what caused the fire, but initial reports suggest it is not thought to be suspicious.
More than two million Muslims from around the world - tens of thousands of them from Britain - make the journey each year to Mecca, the holiest place in Islam, for the Hajj pilgrimage.
The Hajj is the fifth and final pillar of Islam, which every adult Muslim is expected to undertake at least once in their life if they can afford it and are physically able.