Roman Abramovich denies Boris Berezovsky 'gangster smear'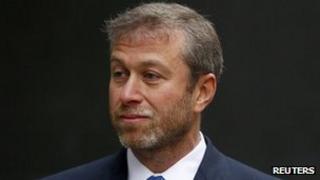 Chelsea Football Club owner Roman Abramovich has denied trying to smear business rival Boris Berezovsky by suggesting he had ties to "gangsters".
He told the Commercial Court, in London, he was "just trying to describe the situation".
Exiled Russian oligarch Mr Berezovsky, 65, is suing Mr Abramovich amid claims he "intimidated" him into selling shares well below their true worth.
Mr Abramovich, 45, denies alleged breaches of trust and contract.
Mr Berezovsky is claiming £3bn in damages.
He alleges that billionaire Mr Abramovich "betrayed" him and intimidated him into selling shares in Russian oil company Sibneft for a "mere $1.3bn" (£800m).
He says this happened after he left Russia in 2000 following a falling-out with the then president, Vladimir Putin.
But the football club owner, who has denied Mr Berezovsky is entitled to damages, has said he was paid millions of pounds for his services as a "political godfather" but was not a business partner.
Laurence Rabinowitz QC, representing Mr Berezovsky, told Mr Abramovich: "In order to try and avoid Mr Berezovsky winning this action, you will resort to smearing him by trying to associate him with criminal gangs, and anything else you think will assist you by making him look bad in front of this court."
Mr Abramovich replied: "No. I do not agree. I'm just trying to describe the situation."
The barrister added: "And what you were seeking to suggest was that ... Mr Berezovsky (was) in some way connected to Chechen gangsters."
Mr Abramovich, who addressed the court in Russian with his words translated by an interpreter, replied: "No. This is not so."
In a written witness statement handed to the judge, the football club owner said that in the "late 1990s and early 2000s" he needed "political protection" and "physical protection" to ensure a stable environment in which to develop his business.
The Chelsea FC owner said he met Mr Berezovsky in 1994, whom he said acted as a "protector" and provided what Russians called "krysha" - a relationship with someone who could use his political connections to solve certain problems and get compensated for his efforts.
In his statement, Mr Abramovich said at that time it was not possible to take his business interests "to the next level" without the help of a person who had the "appropriate political connections".
He said: "It was also necessary at that time to have 'physical' protection as anyone having access to businesses capable of generating strong cash-flows was vulnerable to criminal interference, including potential violence.
'Unjustified smear'
"Mr Berezovsky was believed to have strong connections to the Chechen elements which exerted a powerful influence in Moscow at that time. Mr Berezovsky seemed to me capable of providing me with both political and physical support and protection."
But Mr Beresovsky's barrister responded to this statement by saying: "I am going to be submitting that the insinuations and allegations that you make ... about Mr Berezovsky having links or involvements with Chechen criminal gangs and being involved with Chechen terrorists is an utterly unjustified smear."
Mr Abramovich, who was giving evidence for a second day, is expected to be in the witness box for the rest of the week.
The trial began early last month.
The hearing is set to last two months.