Taking stock of schizophrenia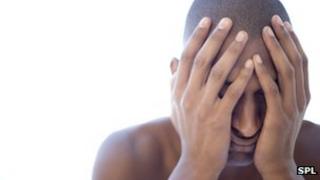 David Strange had an enviable life to look forward to.
A winner of the prestigious Wellcome Prize he was completing his doctoral thesis at Oxford University, and contemplating a career as a biomedical research scientist, when those hopes for a bright future were cruelly dashed.
"It was truly terrifying how quickly everything fell apart," he says. "It really was a case of one day talking to my doctoral supervisor and suddenly seeing a bunch of nasty, hairy, disgusting rat-like things running around all over the office, and over my feet. I was sure they were coming to get me and eat me alive. My time at Oxford simply imploded."
David Strange was eventually diagnosed as a paranoid schizophrenic. Now in his late 30's he's spent much of the intervening 11 years on powerful anti-psychotic and anti-depressant drugs, moving in and out of secure mental health facilities, and has attempted suicide on more than one occasion.
It's a profoundly unsatisfactory story, according to Paul Jenkins, the chief executive of Rethink Mental Illness, but also a depressingly familiar one.
"In many ways schizophrenia is the forgotten illness. We still don't know what causes it and we still don't know what the most effective treatments are. It's a devastating condition that affects hundreds of thousands of families across the country and in many cases is leading to people dying 20 years earlier than normal."
With that in mind Rethink Mental Illness has seized on the opportunity presented by the 100th anniversary of Swiss psychiatrist Eugen Bleuler's adoption of the term schizophrenia to describe the set of symptoms that have come to characterise the disorder.
It's launching an independent inquiry, chaired by the professor of psychiatric research at Kings College London, Sir Robin Murray, to take stock of the situation. It will hold hearings in public, take evidence from medical professionals, policy-makers and patients, and produce a report detailing its findings in the new year.
Schizophrenia "costs the health service more than cancer or cardiac disease," Professor Murray told the Today programme, but the way patients are treated lacks choice and co-ordination.
The inquiry, he explained, would look at how a more rational treatment system would work, and at how research should be targeted at the disease.
"Now that the brain is open to investigations, now we can image what's going on in the brain of people with schizophrenia, now this is the time to put money into research," he said.
The inquiry comes at an exciting time in terms of basic research into the biological processes underpinning the disorder.
Two genome-wide studies involving more than 50,000 patients have identified five new genetic risk factors for schizophrenia. The studies, published in the latest edition of Nature Genetics, take the total number of genes, or gene variants, associated with the disease to 20.
"These are the most powerful genetic studies of psychosis to date," says the Institute of Psychiatry's Professor David Collier who was involved in both studies. "They include one gene which may be acting as a master regulator, influencing the biological pathways in the brain, that once perturbed lead to schizophrenia."
For the dean of the Institute of Psychiatry at Kings College London, Professor Shitij Kapur, the mounting evidence from bio-chemistry, brain imaging and now genetics, settles any debate: schizophrenia is at root a neurological disorder.
"Your genetic inheritance predisposes you to it. It doesn't determine that you will get it, but makes you more vulnerable to it. But thereafter a number of environmental influences, and perhaps social factors, come together to present as schizophrenia."
The challenge now is to translate these insights into the biological basis of schizophrenia into new diagnostic tools and novel treatments for patients like David Strange. A hundred years after the term was first coined that remains an elusive prize.
"Still when I go out on the street I can hear people's thoughts when I look at them," David Strange says. "They are focused on me and how much they despise me. Which is very scary and very intense and very real, so it's rather hard sometimes to go out on the street".