War memorials hit by scrap metal thieves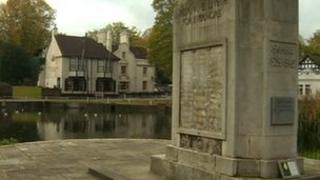 Thieves are targeting plaques from the UK's estimated 100,000 war memorials to take advantage of soaring metal prices, according to a conservation group.
The War Memorials Trust estimates one monument is vandalised per week for its bronze, copper or other metal, despite them having "relatively little value".
The charity is launching a campaign to protect all memorials in the run-up to the 100th anniversary of World War I.
In Memoriam 2014 aims to mark them with a solution visible only under UV light.
Through its charitable foundation, the deterrent's producer SmartWater is donating its product which it says will allow any stolen metal to be traced and leave traces on thieves' tools.
'Disgusting'
One night last month, thieves used crowbars to prise off plaques bearing the names of 700 men from the memorial in Carshalton, south of London.
David Plattern, of the Royal British Legion's local branch, said: "It's disgusting. It's just not right. The only reason they can come here at night is because the people on there gave their lives so we could have this open society we've got in this country."
Other memorials have had metal statues stolen, such as the bronze cast of a World War I soldier on the monument in the garrison town of Tidworth, Wiltshire.
War Memorials Trust director Frances Moreton said such thefts caused a great deal of anguish to communities.
"If you have lost this memorial and lost a plaque then, in effect, you've lost a touchstone to your history... that you may never get back," she said.
The trust is encouraging custodians of memorials to get in touch for help in protecting them.