Prince Philip cold halts his visit to Italy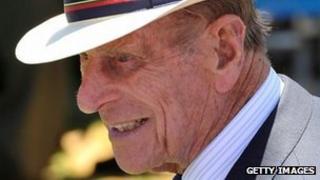 The Duke of Edinburgh has pulled out of travelling to Italy on Monday afternoon because he has a cold.
Prince Philip, 90, was due to attend a meeting in Assisi of an environmental organisation that brings together the world's major religions.
A Buckingham Palace spokesman said: "We expect the Duke of Edinburgh to undertake official engagements during the rest of the week."
The Queen and duke have just returned from an 11-day tour of Australia.
The duke's next official engagement is a lunch at Westminster Abbey on Thursday.
He is also due to present a prize at Buckingham Palace on the same day as an honorary member of the British Sub-Aqua Club.
Leaders' summit
The Queen cancelled a visit to the British Museum in London due to a cold shortly before she left for Australia.
A spokesman said at the time: "Her Majesty has a long trip next week and then a busy overseas programme in Australia and will need to be fit for this."
The Australia tour included a Commonwealth leaders' summit in Perth at which the rules on royal succession were changed to allow sons and daughters equal rights.
The ban on a UK monarch being married to a Roman Catholic was also lifted.
It was the Queen's 16th visit to Australia.