Clocks go back as British Summer Time ends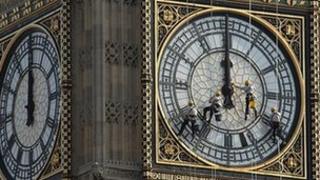 Most people in the UK have had an extra hour in bed, as clocks went back to mark the end of British Summer Time.
At 02:00 on Sunday, clocks went back to 01:00 as Greenwich Mean Time returned.
It means darker evenings until they are put forward again on 25 March and comes as ministers consider moving clocks forward an hour for a three-year trial.
That would involve adopting Central European Time, with BST plus one hour in summer and GMT plus one in winter.
However, there is opposition to the idea from the Scottish government on the grounds that dark mornings would make life difficult for outdoor workers and lead to increased numbers of road accidents.
Among those missing out on the benefit of the extra hour in bed on Sunday were the clockmakers at the Palace of Westminster.
Shortly after 21:00 on Saturday they began the five-hour process of changing the time on each of the four faces of the Great Tower, which houses Big Ben.
When re-setting the time, they make a close inspection of the clock mechanism as part of a rolling maintenance programme.
The hour strike was locked off to stop the bell chiming until 02:00 and the dial lights were also switched off to allow workers to alter the time without drawing public attention.