British Empire Medal: Recognising the 'unsung heroes'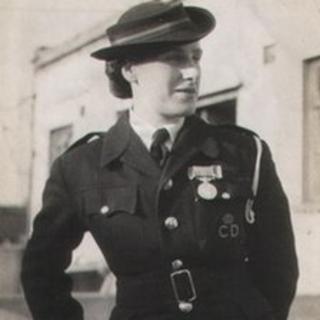 After Prime Minister David Cameron announced the return of the British Empire Medal (BEM), we tell the stories of some of the local heroes who were honoured the first time round.
Sometimes seen as a "working-class gong", the BEM was founded in 1917 and was awarded for "meritorious" actions whether by civilians or military personnel.
But the honour was scrapped in 1993 by former Conservative Prime Minister John Major, as part of his drive towards a "classless" society.
However, nearly two decades on, the prime minister has announced its revival, and from next year, to coincide with the Queen's Diamond Jubilee, about 300 will be awarded annually to community volunteers.
The families of those who received the honour the first time round have welcomed the move - as long as it remains the "unsung heroes" who are recognised.
'Unexploded bomb'
Mabel Siddal was honoured with the medal for her bravery as a 22-year-old air raid warden in Devonport, Plymouth, during World War II.
She pulled survivors from devastated homes during the Blitz - even as attacks continued around her.
The citation for her award, which she received in 1942, states: "Madam, I recently drew the attention of the Minister of Home Security to your gallant conduct when during the severe air raids on Plymouth and district on the nights of 21, 22 and 29 April 1941 you rescued people from bombed houses while raiding was still going on, fought fires, evacuated a number of people from the area where an unexploded bomb had fallen, and generally behaved in a resourceful and courageous manner in circumstances of great danger with complete disregard for your own comfort and safety."
Her daughter Barbara Roche described her mother's actions as "amazing" and said the BEM had been a source of great pride. Mrs Siddal died last year at the age of 92.
Mrs Roche welcomed the revival of the honour, but added: "As long as it goes back to the concept of it being an award for services to the community, which very much was the case for my mum, then I have no problem with it.
"I think it had become devalued before it was abolished - the prime example was that it was given to Margaret Thatcher's cleaner, according to the newspapers, and mum was really irate about that."
Armed terrorists
Douglas Hogg's story is as equally hair-raising as that of Mrs Siddal's.
As a young young police officer in the Royal Ulster Constabulary during the late 1960s, he chased a gang of armed terrorists from Northern Ireland into the Republic of Ireland.
The terrorists had previously robbed two banks in the town - now city - of Newry, County Down.
"I was unarmed at the time and I was briefly captured by them and made to plead for my life," explained Mr Hogg, who told how the men held a gun to his head.
He was only saved after some children passed by and he pleaded with his assailants not to kill him until they had gone. They later let him go.
Mr Hogg said of the honour: "Being 24 years of age it is not often that you get a gallantry medal presented by the Queen."
He said he was surprised when the BEM was abolished, and added: "I think people got the impression then - wrongly or rightly - that to receive an MBE you needed 'greater qualifications'."
He said bringing back the BEM was an "excellent idea" because it offered an opportunity for more people to receive a bravery medal.
A search through the BBC News archives throws up many tales of local heroes who received the BEM.
Take Henry "Shrimp" Davies, a lifeboatman who saved about 500 lives during more than 30 years as coxswain of the Cromer lifeboat. He was awarded the medal in 1970 for "maintaining the highest traditions of the lifeboat service".
Margaret Miller was recognised with the BEM for services to her community through volunteering for more than 70 years. She began working with the WRVS, helping older people remain active and independent in the community, in Glasgow in 1939.
Dale Howting, a former postman, who cycled hundreds of miles on the same spot in Roman Square, Sittingbourne, was honoured with the BEM for his charity work. Mr Howting raised more than £200,000 over 30 years.
'Very brave'
William Craddy was awarded the BEM in 1946 for "meritorious conduct" during World War II.
His son, also named William, said his father received the honour for an "accumulation of acts of bravery, quick thinking, morale-raising and compassion".
"In order to get any sort of medal an act of bravery performed needed to have been witnessed by an officer," says Mr Craddy, 63, from Leeds, whose father died aged 76 in 2004.
"Now that never happened with my dad although from the various stories told about him (we knew) he was an extremely brave man.
"He never got a medal other than the campaign medals but at the time we lived in a small village called Ormesby and the local people there gathered some stories about my dad and they passed them all to the Lord Lieutenant. He recommended my father for the BEM and it was awarded in 1946."
Mr Craddy recounted several of the stories that led to his father, who became an RAF sergeant, being honoured.
"The regiment was on a forced march in wet, muddy, terrible conditions and had marched for miles and miles. One of the men said to my dad 'Christ, sarge, how much further? I'm walking on my knees', to which my father replied: 'Never mind your knees, I'm walking on my cap badge'. This comment caused much laughter and being overheard by an officer, earned my dad a Mention in Despatches for keeping up morale," said Mr Craddy.
Mr Craddy, a father-of-five, also pulled the body of one of his comrades to safety on the door of a cow shed after he was fatally shot by a sniper close to a German airfield. And on another occasion he saved lives when his regiment was trapped at one end of a German minefield.
"He remembered from a commando course that the Germans used a particular network of ropes to mark out mines and everywhere there was a knot there was a mine - he quickly told the commanding officer that he knew the pattern," said Mr Craddy.
The former steel worker did not even mention that he had received the honour until the 50th anniversary of VE day.
"I'm not saying he was exceptional - he only did what thousands of other men probably did - but he was a very, very brave man," said his son.
"That's exactly what the BEM was for and yes, bring it back so the many unsung heroes of today can be recognised."