Queen's Australia tour rounds off with huge BBQ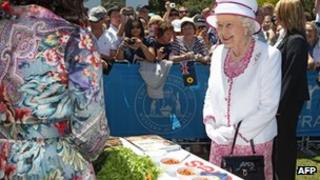 The Queen has ended an 11-day tour of Australia by attending a huge barbecue in Perth and saying she would return home with "fond memories" of her visit.
After the Duke of Edinburgh showed off his grilling skills, the Queen told Australians she had been "overwhelmed" by their welcome.
The visit included the Commonwealth leaders' summit at which the rules on royal succession were changed to allow women equal rights.
The visit was the Queen's 16th.
BBC royal correspondent Nicholas Witchell said that the warmth of the Australian welcome "had clearly touched" the Queen.
Our correspondent said that tens of thousands had lined the streets of Perth to see the royal couple on their final public engagement.
"We have been overwhelmed by your kindness and support," she told the crowds.
"Once again we will return to the United Kingdom with fond memories of our time here and the warm Australian welcome we have received on our 16th visit to this beautiful country."
At the Commonwealth leaders' summit in Perth, it was decided that sons and daughters of any future UK monarch would have equal right to the throne. They will also be allowed to marry Roman Catholics without giving up a claim to the throne.
The move was agreed by the 15 Commonwealth realms where the monarch is head of state.