David Cameron human rights plea at Commonwealth meeting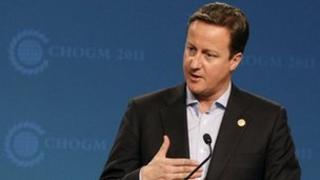 David Cameron has pressed for progress on a range of human rights issues during the Commonwealth summit.
Mr Cameron told the Commonwealth Heads of Government Meeting (Chogm) in Australia that to stay relevant it must work harder to uphold basic values.
The Chogm leaders agreed on Saturday to step up efforts to wipe out polio from the four countries where it is endemic.
And the human rights record of the Sri Lankan government came under scrutiny. It will hold Chogm in two years' time.
The Eminent Persons Group, which includes former UK foreign secretary Sir Malcolm Rifkind, has examined the challenges facing the Commonwealth, and made more than 100 recommendations.
The suggestions were proposed as ways to ensure that the organisation remains relevant in 21st Century global affairs.
Mr Cameron has said he expects good progress to be made on developing a "charter" of rights and freedoms.
Other recommendations, which are proving more problematic, are the appointment of a independent commissioner for the rule of law and human rights and a call for all member states to repeal laws banning homosexuality.
'Great network'
The summit in Perth is the first Chogm meeting Mr Cameron has attended since entering Downing Street.
The prime minister said: "The Commonwealth is a great organisation, a third of the world's population, 54 countries across six continents, a really great network, but it is a network that must have strong values.
"The Eminent Persons Group report will strengthen those values particularly by having a charter setting out the rights, the freedoms, the democracy that we all believe in, and I think that is important."
Mr Cameron added that he thought "good progress" would be made in Perth.
Sri Lanka
Sri Lanka's army has been accused of war crimes during the civil war with the Tamil Tigers.
Canadian prime minister Stephen Harper has said he will boycott the 2013 summit unless there are major reforms in the country.
When asked about Sri Lanka, Mr Cameron said there had to be a "proper, independent exercise to look into the whole issue of what happened, and whether there were war crimes, and who is responsible".
Mr Cameron also joined the leaders of Canada, Australia and Nigeria, in committing tens of millions of pounds towards eradicating polio in India, Pakistan, Afghanistan and Nigeria.
The campaign will be supported financially by Microsoft magnate Bill Gates.
Australia's prime minister, Julia Gillard, said: "While polio remains anywhere in the world, it is a threat to everyone.
"We're here today to demonstrate our commitment to ending the fight against polio, that is, ending polio for all time."