More crimes added to police mapping website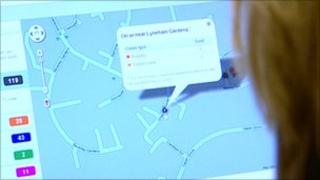 People will be now able to compare their police force with others in more detail as the government's crime mapping website is being extended.
The police.uk website allows users to see offences reported in their locality by entering a street name or postcode.
The website now compares all 43 forces in England and Wales with others on crime rates and victim satisfaction.
A wider range of offences such as theft, shoplifting, criminal damage and drugs will now also be included.
By the end of the year, the website is set to include the naming of specific pubs, clubs, football stadiums, parks and shops around which crime and anti-social behaviour is concentrated.
At present, crimes are mapped to an anonymous point called a "snap-point" on a street with 12 or more postal addresses.
By May 2012, the website will show what has happened after a crime has been reported to the police and track its progress through the courts.
Policing minister Nick Herbert said the scheme had made the police service more transparent, adding that with more than 430 million hits it had been "a staggering success since its launch".
The minister said that extending the service meant "giving the public more information about crimes in their street, and the ability to compare the performance of their force with others".
"This is putting power and information in the hands of the public," he said.
Impact of riots
Marion Fitzgerald, visiting professor of criminology at the University of Kent, told BBC Radio 4's Today programme that when new police and crime commissioners were elected from next year, the demand for resources would be "very much skewed" towards areas where crime or anti-social behaviour was shown on the maps to be prevalent.
"The danger is that with cuts to police budgets, police commissioners with the power to hire and fire police chiefs, this is really going to skew police resources in a political way," she said.
But Mr Herbert told Today that the public were entitled to know what was happening in their streets and that there needed to be accountability.
"Precisely because you cannot actually choose your police force it's very important that you need to hold this essential public service to account." He said that in London the mayor was already accountable for policing and that the system was "broadly popular".
Mr Herbert acknowledged that numbers of people involved in group offending such as August's riots in England were not reflected on the site.
"I think we all realise that the riots were an exceptional event but it's the case that if, for instance, a gang raids a bank then that counts as one crime even if there were four people in that gang," he said. "This site was intended to give information about crime in the normal situation of our day-to-day life."
The BBC's home affairs correspondent Matt Prodger says critics of the website believe mapping crime can alarm and mislead people.
The website relies on reported incidences of crime, he says, and there has been criticism that it may skew perceptions because people in wealthier areas are more likely to report offending.
When it was launched in February, the website crashed due to the number of people wanting to access it.
Since then it has had more than 400 million hits.