ChildLine marks 25 years of helping children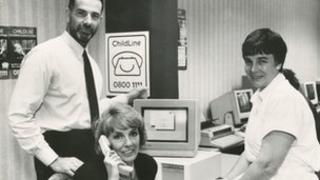 ChildLine has spent 25 years ensuring an adult is at the end of a phone to help children cope with all kinds of serious issues, ranging from bullying, neglect and violence at home to alcohol and drug problems.
Its founder Esther Rantzen reflects on the charity's milestone.
It is one of the most recognisable numbers: 0800 1111.
Since it was launched in 1986, ChildLine's counselling service has been called by some 2.6 million children.
It was established after a helpline set up after a BBC television programme on child abuse was inundated with calls.
Television presenter Esther Rantzen realised there was an urgent need for an outlet for vulnerable children - and in some cases adults - to talk about what was then a taboo subject, child abuse.
Before, people had just been too scared.
Starting with 100 volunteers in a small office, the helpline was instantly busy and struggled to answer the 8,000 calls it received each day.
Twenty-five years later, the charity has expanded to 12 call centres across the country as well as an online counselling service. Its model has been copied in 150 countries.
Its counsellors have given children "hope when they've been desperate, showed them ways of stopping the abuse or supporting them through the neglect" says Ms Rantzen.
Adults whom the charity helped when they were younger have approached the former presenter of That's Life over the years to say how much the helpline had meant to them.
"It's very moving," she says. "It inspires me to work harder; makes me feel immensely grateful to all those counsellors who gave those children the support, the comfort, the listening ear when they thought nobody in the world cared about them."
'Ashamed to talk'
When ChildLine was launched, the biggest problem was sexual abuse.
"That was the big taboo and children who were suffering literally didn't feel that anyone would believe them or understand or could help them," recalls Rantzen.
She said one of the major changes over the years was that in 1986, young people had been waiting some 10 or 15 years to speak about the abuse they had suffered. Now half of the children who contact ChildLine about sexual abuse do so within a month of it happening.
In 1986, it was difficult for children to make the call for help. Some had to trek in the middle of the night under the cloak of darkness to get to a bright red telephone box.
Now, mobile phones have made it easier for people to find a safe place at a safe time to call.
The internet has also made it easier for distressed children to contact counsellors.
"Children suffering from deep depression, feeling suicidal - that kind of problem which children feel almost too ashamed to be able to talk about on the phone, they can bring to us online," says Rantzen.
"The most common troubles children bring to us alongside bullying - which is one of our top ones - is problems at home with the family and that makes me wonder whether something profound has happened to the way families nurture and support them."
She said the prevalence of divorce and new partners not being able to bond with children may be having an impact.
'Voice of a child'
One of the most memorable endorsements Esther Rantzen has received was at the charity's 25th anniversary fundraising ball.
"A very attractive, very tall, woman came over to me and she was clearly very emotional," says Rantzen.
"She took me to one side to tell me she'd rung ChildLine in the first week it opened and then rang every day, sitting on the floor of a telephone box until she got the courage to tell the man who was abusing her that he had to stop.
"And she did. She was 13 at the time and was in tears when she told me about it so that brought the voice of a child home to me and that made me more determined that every child needs us and they must be able to get through."
Ms Rantzen said she worries that, despite the charity expanding to over 1,500 volunteer counsellors, some children may not be able to get through.
In particular, the charity is concerned that children from ethnic minorities whose English may not be very good or disabled children may not be able to contact them.
'Protect from pain'
In August, Esther Rantzen spoke for the first time about the abuse she experienced at the hands of a close family friend when she was younger.
Despite the pain this caused, she said it did not motivate her to start the charity. Instead, she had read a report about a toddler who had been murdered by those that had been entrusted with her care.
It was that death, and "so many others over the years that I just felt it was so heartbreaking, we must try and find those children before it's too late".
She said her experiences gave her an insight into how difficult it is when abuse happens at the hands of someone well known to the family.
"But the thing that drives me on is the knowledge that we really can save lives, we really can transform children's lives, we can protect them from pain, bring abusers to justice.
"If we weren't effective, then I think we would have no right to be here 25 years later but we know ChildLine changes lives for the better and that's what drives me on."