Poppy appeal aims for record £40m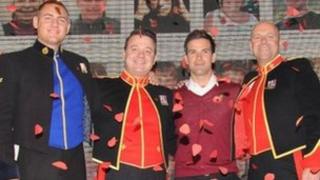 The Royal British Legion has launched the 2011 UK Poppy appeal, with the aim of raising £40m to help past and present members of the British Armed Forces and their families.
This year's slogan "shoulder to shoulder with all who serve" was unveiled at a London event.
The charity hopes to beat last year's efforts, which raised £36m .
There is also an online campaign and an official single recorded by Robin Gibb, of the Bee Gees, and The Soldiers.
The Soldiers are a music group of three serving personnel - Sergeant Major Gary Chilton, Staff Sergeant Richie Maddocks and Lance Corporal Ryan Idzi.
The three soldiers attended the launch event, along with television presenter Gethin Jones.
The Poppy appeal distributes about 45m poppies, 100,000 wreaths and sprays and 750,000 Little Remembrance crosses. These items are made at the Legion's poppy factory in Richmond, south west London.
Virtual poppies
The Legion, now in its 90th year, has also unveiled a social media campaign to capture public support and encouragement for the Armed Forces.
Members of the public are able to pin a poppy to an online photograph, add a message of support, and place it alongside thousands of others on an interactive wall.
Legion Director of Fundraising, Russell Thompson, said: "Of course, everyone who wears the paper poppy is also standing shoulder to shoulder.
"It doesn't really matter whether you wear your poppy on the street or online - just so long as you wear your poppy with pride."
Attending the national launch was Lance Corporal Tyler Christopher, 27, of 4th Battalion The Rifles. He was injured by an improvised explosive device in Afghanistan in 2009 and had to have both legs amputated above the knee.
The Legion has provided funding for adaptations to his home.
He said: "Changes to my mum's home were essential when I came home from Headley Court, and I'll never forget that the Legion got the job done as quickly as possible to make life at that time easier for me.
"Both myself and my girlfriend are grateful for the support of the Legion and hope to some day set up our own business - something we know the Legion is also able to help with."
In Wales, the appeal was launched by Corporal Glen Edwards, who was blinded in an accident, at St Dunstan's Llandudno rehabilitation centre. Welsh fundraisers hope to collect £3m this year.
The Poppyscotland appeal, which is a sister appeal to the one run in the rest of the UK, was also launched on Thursday by the Royal Highland Fusiliers, 2nd Battalion the Royal Regiment of Scotland, at their Glencorse Barracks in Penicuik, Midlothian. It raised a record £2.35m last year.
Northern Ireland's appeal is being launched on Friday at Hillsborough Castle, by the Secretary of State for Northern Ireland, Owen Paterson MP.