Russian 'spy' Katia Zatuliveter: MP lover paid for trips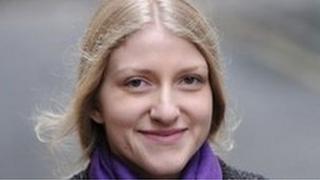 A Lib Dem MP's former aide and mistress who denies being a Russian spy has told an immigration appeal he paid for three trips abroad for her.
Katia Zatuliveter, 26, said Portsmouth South MP Mike Hancock, 65, paid for trips to Brussels, Rome and Moscow.
She is fighting deportation at the Special Immigration Appeals Commission.
Government lawyers want her deported. They say she started an affair with the MP because she thought he was politically influential.
Miss Zatuliveter told the appeal hearing the couple went to Brussels for a week in July 2006, before flying to Rome less than a month later.
She also says the MP paid for her to go back to see her parents in Russia for a fortnight in 2007.
Between the end of May and start of June 2006, before she came to Britain, she met Mr Hancock in Moscow, Miss Zatuliveter added.
The MP met her at the airport and they caught a taxi to a hotel.
Airport detention
The former parliamentary researcher was originally interviewed by an MI5 agent in autumn 2009
In August 2010 she was detained at Gatwick Airport as she flew back from Croatia and interviewed by other security service officials.
She was arrested in December last year and served with a deportation order.
The government believes she used her position as Mr Hancock's assistant and mistress to pass information to Russian intelligence.
It says she should be deported because her presence endangers national security.
The tribunal has heard she had contact with a Russian, referred to as Boris, who worked at the country's embassy in London.
The man, who has since been expelled, once described her role for Mr Hancock as a "dream job", the hearing has heard.
The case is expected to conclude on Friday, with a judgment reserved for several weeks' time.