St Paul's Cathedral Canon Chancellor Giles Fraser in profile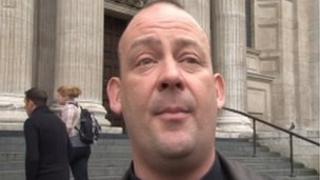 Canon Giles Fraser is every inch the modern radical cleric - outspoken within the Church of England but also with politicians, the City and the military.
The married father-of-three, 46, is widely known as a media commentator and is a regular tweeter.
Ordained as a deacon in 1993, he was a philosophy lecturer before being appointed St Paul's Canon Chancellor in May 2009.
As a cleric Giles Fraser has never been afraid to court controversy.
Homosexual clergy
He was a founder of Inclusive Church, the best-known group campaigning for the full recognition of gay lifestyles.
At the height of concern about homosexual clergy in 2008, he welcomed the world's first openly gay Anglican Bishop, the Right Reverend Gene Robinson, to preach in his church.
This was despite the bishop having been banned from attending a special church conference on the issue.
As a regular contributor to Radio 4's Thought For The Day he has confronted a wide variety of moral issues head-on, including saying he is "against the idea that justice necessarily means retribution".
His role at St Paul's Cathedral was partly as Canon Residentiary, concerned with engagement with the City of London.
But commenting on the August riots he told Radio 4's Today programme: "It's extraordinary... blaming a particular class, focussing all our ire on a particular class of people, when the same sort of self interest is manifest in the City where I live and work."
For seven years he was a philosophy lecturer, publishing a book on Nietzsche, but his tweets reveal someone also in touch with more mainstream concerns.
Big Mac
"Shane Warne and Liz Hurley to marry. Oh no. I guess that means his transformation into Dale Winton is gonna be forever," read one.
In another he asked: "Why does the middle bit always slip out of a Big Mac?"
He has described modern, expensive weddings as self-indulgent and over-blown vanity projects which create "an atmosphere of narcissism and self-promotion".
Politics has not escaped his criticism.
This former member of the Socialist Workers Party recently tweeted of the ex-US Defence Secretary Dick Cheney: "Once again Cheney is using 9/11 as an alibi for his moral bankruptcy. Utterly shameful."
But he is also regular lecturer on moral leadership at the army's Defence Academy at Shrivenham.
Paul Handley, managing editor for the Church Times - for which Canon Fraser writes a regular column, describes him as a deeply thoughtful man.
"His ease as a media performer means there is a danger that people write him off as not a serious man," he says.
"But he feels very strongly about moves to remove the protestors from outside St Paul's. He and his family have no Plan B about what to do now."
Whatever Canon Fraser does next, he is unlikely to keep a low profile.