Prison numbers to rise, the Ministry of Justice says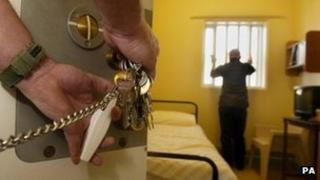 The prison population in England and Wales is likely to continue increasing, a Ministry of Justice report says.
The report shows the prison population rose by 2% (2,072 prisoners) to 87,501 in the year to 30 September 2011. Last week it had climbed to 87,652.
In two of three sentencing scenarios, government statisticians projected the population would rise by 30 June 2017 - to 94,800 in the highest scenario.
Last year, the government pledged to dramatically reduce prisoner numbers.
Justice Secretary Ken Clarke announced plans to change sentencing and penal policy, introducing a green paper in December 2010.
Ministers want to cut the inmate population in England and Wales by 3,000 over four years, reducing the £4bn prison and probation budget by 20%.
'Subject to uncertainty'
The Ministry of Justice (MoJ) report published on Thursday based its prison population estimates on the three different scenarios.
Statisticians based their projections on 2003-2010 trends to come to the lowest population scenario - a drop to 83,100 - by 30 June 2017.
Should custodial conviction rates remain at 2010's average level, projections say the population could reach 88,900 by that date.
The highest projected figure assumed a reversal in the 2003-2010 trends.
However, the MoJ predictions did not take account of the announcement on Wednesday of tougher sentences for knife crime and repeat violent offenders.
Reoffending reduced
The potential impact of the Legal Aid, Sentencing and Punishment of Offenders Bill - currently passing through Parliament - was also not considered.
The figures are described as "baseline scenarios" against which the impact of future changes can be assessed. They are "indications" rather than predictions and are subject to uncertainty, the report says.
The MoJ said the June 2011 prison population of 85,374 was smaller than the lowest figure it had projected a year earlier.
It attributed this to increased use of home detention, a decline in the remand population and low growth in the number of prisoners recalled to jail.
The report also said the reoffending rate in England and Wales had dropped slightly over the past decade from 27.9% in 2000 to 26.3% in 2009.
Hartlepool had the highest reoffending rate 36.6%, Rutland the lowest 14.4%.