Life sentences 'to be mandatory for more crimes'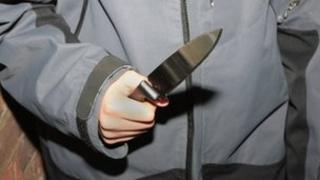 Mandatory life sentences will for the first time be extended to crimes other than murder under plans set out by Justice Secretary Ken Clarke.
Anyone convicted of a second serious sexual or violent crime in England and Wales would get an automatic life term.
A new offence for 16 and 17-year-olds of threatening with a knife would also carry a mandatory custodial term.
Labour's Sadiq Khan welcomed the knife measure but said other changes could see dangerous offenders freed.
Mr Clarke is proposing to scrap indeterminate sentences, introduced by Labour, which prevent offenders being freed until the parole board has ruled they no longer pose a danger to the public. Describing them as "failed", he said he wanted to bring in "more certain sentences".
"We've got 6,000 people languishing in prison, 3,000 of whom have gone beyond the tariff set by the judge, and we haven't the faintest idea when, if ever, they are going to get out," he told BBC Radio 4's Today programme.
"It's a gross injustice, a bit of a stain on our system."
Work and Pensions Secretary Iain Duncan Smith said the government should increase the number of prison places if the new sentencing policy resulted in more people being sent to jail.
Speaking on BBC One's Question Time programme, he said the government "has to allocate the resources" if there is a need for more places.
'Near murderous'
Meanwhile Mr Khan, the shadow justice secretary, said the plan "does not address the problem of unreformed offenders who have completed their sentence being released to commit crime and inflict harm on the public".
He added: "Under this government's plans, offenders who are a danger to the public could still be released from prison. They are taking an unnecessary risk with public safety."
Mr Clarke said the new automatic life sentences would apply to somebody who had committed two "probably near murderous attacks".
The Ministry of Justice (MoJ) confirmed the changes would not apply retrospectively to current prisoners, but Mr Clarke told the BBC he would consult on rule changes that could make it easier for prisoners currently serving indeterminate sentences to be released.
Mr Clarke said the parole board "hardly ever releases anybody", adding: "The parole board ought to have a positive reason for wanting people to stay in rather than them having to prove it's safe to let them out."
Justice campaigners said they were concerned about the proposals, revealed a day after Mr Clarke told MPs that judges should have discretion over sentencing and said mandatory sentences were not the British way.
On Tuesday, Mr Clarke told MPs mandatory sentencing was "rather an American thing" and to have a situation in which, for example, a 13 was automatically imprisoned without a judge being able to use his discretion would "rather go against how we normally approach the sentencing of juveniles".
Asked whether he had changed his mind since then, Mr Clarke said he had not, although some people had tried to "carefully select little bits of what I said" to suggest a U-turn.
He said he remained "flatly against" the idea of mandatory jail terms for under 16s, but was creating the new offence for 16 and 17 year-olds which would result in automatic detention.
'Clear message'
Those convicted under the knife crime proposals, announced on Wednesday evening, would face four-month detention and training orders. Automatic jail terms are already planned for adults.
"Clearly any extension of this sentence to children requires very careful consideration," said Mr Clarke. "However, we need to send out a clear message about the seriousness of juvenile knife crime."
MoJ figures suggest between 200 and 400 teenagers aged 16 and 17 could be jailed every year for using a weapon to threaten others.
Frances Crooke, chief executive of the Howard League for Penal Reform, said she was "worried" about the proposals for mandatory life terms.
"We have nearly 12,000 life sentence prisoners - that's more than Russia, Poland, German and France all added together," she said.
"We are using the mandatory life sentence and discretionary life sentences like confetti already and it is causing huge problems in prisons."
Juliet Lyon, director of the Prison Reform Trust, said: "Subject to good sentencing guidelines, what's wrong with allowing the courts to make sure that the sentence fits the crime?"
Meanwhile, Desmond Hudson, chief executive of the Law Society, which represents solicitors, warned that expanding mandatory life sentences to cover more offences was not the way to replace the indeterminate sentences.
"Both measures will erode the sentencing judge's discretion to find the most appropriate penalty," he said.
Further planned changes to the sentencing regime in courts include:
Extending the category of the most serious sexual and violent offences to include child sex offences, terrorism offences and "causing or allowing the death of a child" so that the new provisions will apply to them
The Extended Determinate Sentence (EDS) - all dangerous criminals convicted of serious sexual and violent crimes will be imprisoned for at least two-thirds of their sentence, ending the release of these offenders at the halfway stage
Offenders convicted of the most serious sexual and violent crimes in this category will not be released before the end of their sentence without parole board approval
Extended licence period - criminals who complete an EDS must then serve extended licence periods where they will be closely monitored and returned to prison if necessary
Courts have the power to give up to an extra five years of licence for violent offenders and eight years for sexual offenders on top of their prison sentence
The new measures will be debated in the House of Commons next week and, if passed, will be added to the Legal Aid, Sentencing and Punishment of Offenders Bill which is currently going through Parliament.