London 2012: FA ponders Team GB Olympic celebration games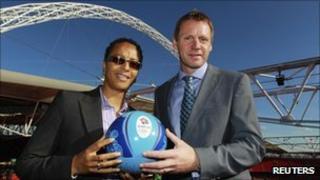 The FA is mulling a top level double-bill to celebrate Britain's return to Olympic football after 40 years.
The men's and women's teams would play international friendlies at the same venue on the same day next July.
Olympic rules state friendlies cannot be played at London 2012 venues, ruling out Wembley, Old Trafford, St James' Park, Hampden Park, City of Coventry stadium, and the Millennium Stadium.
Villa Park in Birmingham is seen as a strong contender for the fixtures.
The ground is no stranger to high-profile fixtures as it was used in the Euro 96 championships and hosted an FA Cup semi-final as recently as 2007.
Munich knock-out
London 2012 will see the women's team making their Olympic debut with the men competing for the first time since Munich 1972, when they failed to qualify for the finals.
July's double-header would be one of two pre-tournament friendlies for both teams, which are being organised by the FA on behalf of the British Olympic Association, and would be played shortly before the start of the Games on 27 July.
London 2012's football tournament starts on 25 July, two days before the Opening Ceremony, with two women's preliminary games at the Millennium Stadium. The women's final will be played on 9 August at Wembley, where the men's final takes place two days later.
The FA sees the Olympics as a chance to boost the profile of women's football, and the double-header friendly fixtures would be a great opportunity to engage a wider audience for the sport.
Hope Powell, appointed last week to manage the women's team, hopes the Games will lead to a rise in popularity in the women's game in the home nations.
"I'm delighted to be in the position to be able to take a team into such an illustrious tournament, I just wish it were starting tomorrow," she said on the day of her appointment.
Powell has led England's women for 13 years and to four successive major finals, including Euro 2005 on home soil.
Former England defender Stuart Pearce was named as the men's manager, and he called on Scottish, Northern Irish and Welsh Football Associations to make their players available for London 2012.
The Wales and Scottish Football Associations have reiterated their opposition to a British team as they feel it threatens their independence as football nations.
The 18-strong men's squads must contain 15 players who were born on, or after, 1 January 1989 - but three players can be older. There are no age limits for the women's selections.